Xiaomi Redmi Note 12 review. Checking the camera, hardware, software, battery, design, screen and charging speed of Redmi Note 12.
Xiaomi Redmi Note 12 review, price and specifications
Introduction
Considering that the 4G version of the most affordable Redmi Note 12 hasn't been released this year, it's time to know about the 5G changes as well. The point here is that Redmi Note 12 4G and Note 12 5G use different hardware, so the user experience may be slightly different. 
The most obvious difference is in the chipsets.
The 4G has a Snapdragon 685 processor, while the 5G option has a 1st generation Snapdragon 4 chip.
And contrary to our expectations, the latter looks more powerful in every way
as the original Redmi Note 12 with 5G capability costs almost 100 euros more.
Xiaomi Redmi Note 12 specs review at a glance
Body: 165.9×76.2×8.0mm, 188g;
Gorilla Glass 3 front, plastic back and frame;
IP53, resistant to dust and water splash.
Screen: 6.67 inches AMOLED, 120 Hz, 1200 nits (peak), resolution 1080 x 2400 pixels, aspect ratio 20:9, 395ppi.
Chipset: Qualcomm SM4375 Snapdragon 4 Gen 1 (6nm): Octa-core (2×2.0 GHz Cortex-A78 & 6×1.8 GHz Cortex-A55);
Adreno 619.
Memory: 128GB 4GB RAM, 128GB 6GB RAM, 256GB 8GB RAM;
UFS 2.2;
microSDXC (uses a shared SIM card slot).
OS/Software: Android 12, MIUI 14 
Rear camera: Wide (main): 48 MP, f/1.8, PDAF;
Ultra Wide Angle: 8MP, f/2.2, 120˚, 1/4″ 1.12µm; Macro: 2 MP, f/2.4.
Front camera: 13 MP, f/2.5, (wide), 1/3.0 inch
Video recording: rear camera: 1080p@30fps;
Front camera: 1080p@30fps.
Battery: 5000 mAh;
33W wired, 50% in 22 minutes (advertised).
Other features: Fingerprint reader (mounted on the side).
infrared port;
3.5 mm jack
The 5G version also has a 48MP primary camera instead of 50MP, offering 128GB of base storage.

Otherwise, with the 4G model, it uses the same 120 Hz OLED panel, 33 W fast charging, 5000 mAh battery, and the triple combination – FM radio, dedicated microSD card slot and 3.5 mm audio jack – features. Considered

a mid-range phone

.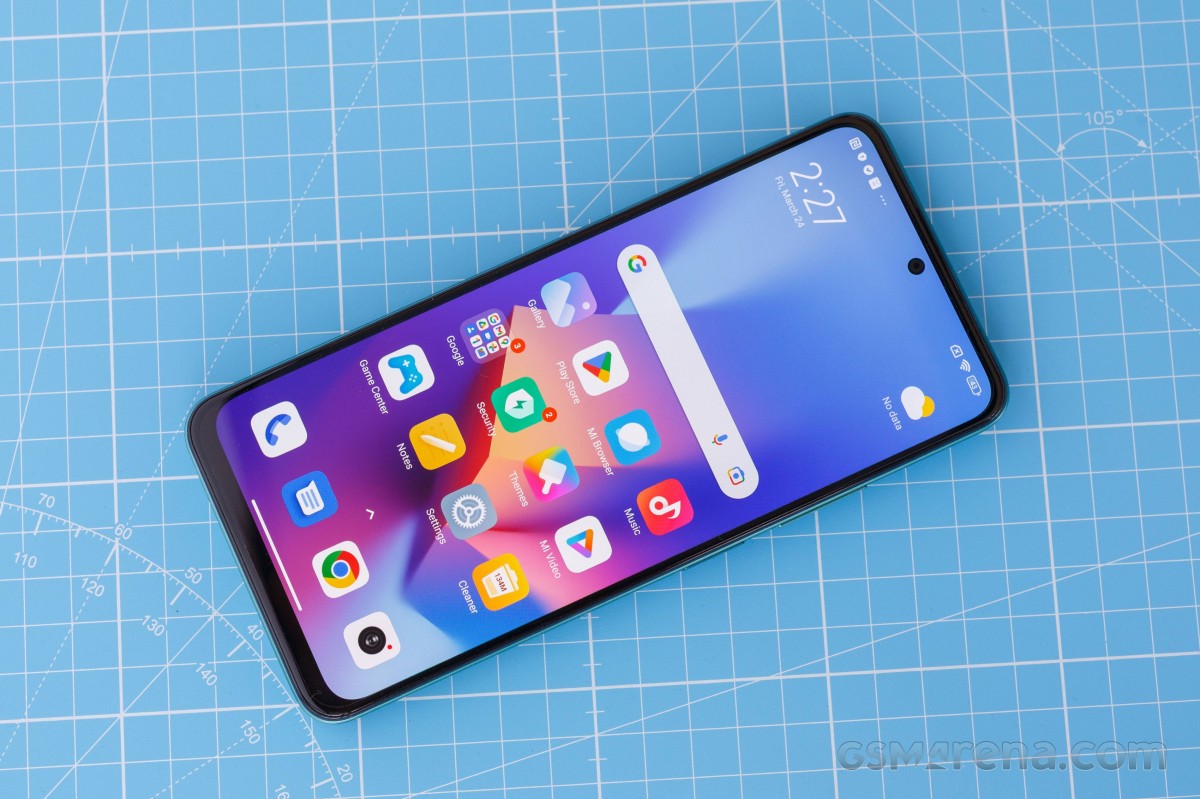 We suggest you continue reading on the following pages to find out how the apparently more efficient Snapdragon 4 Gen 1 chipset fares against the Snapdragon 685 in terms of performance and endurance.
Unboxing Xiaomi Redmi Note 12
The device comes in a standard retail box containing all the usual user manuals, a USB-A to USB-C cable for charging and data transfer, as well as a convenient 33W charger.
There's also a bonus clear silicone protective case in the box to get you started.
Xiaomi Redmi Note 12 design review
The design of the Redmi Note 12 is slightly different from the 4G option and is more in line with other members of the Redmi Note 12 family. In fact, it's almost like the pros – the same curves, looks and camera island. The camera bump doesn't stick out as much and the individual camera rings stick out just a bit.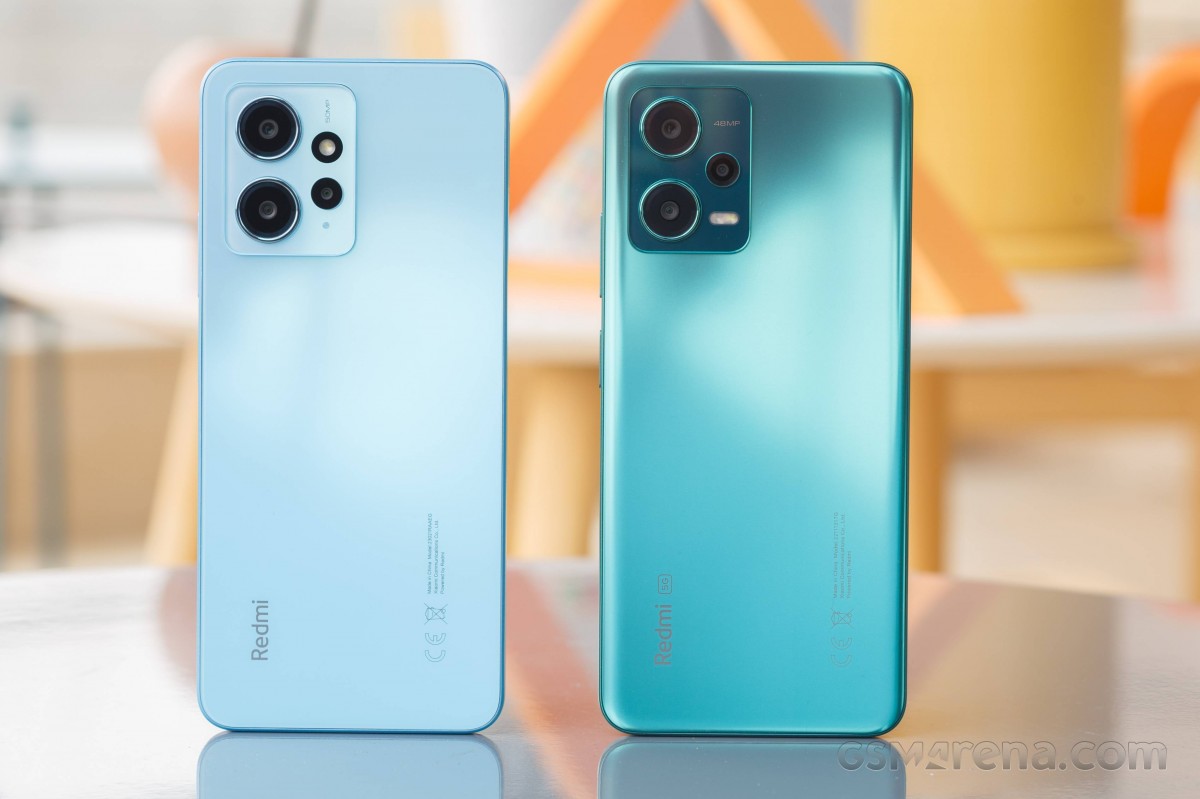 The back of the phone is covered with matte plastic that looks like glass. We have the matte green, but there's also matte black and Mystique blue. Fingerprints and smudges can be seen at certain angles, but they are far from prominent. They also clear quickly.
The curves of the sides provide a good and comfortable grip without creating unwanted protrusions with the side frame. However, the Redmi Note 12 is slippery due to its matte finish.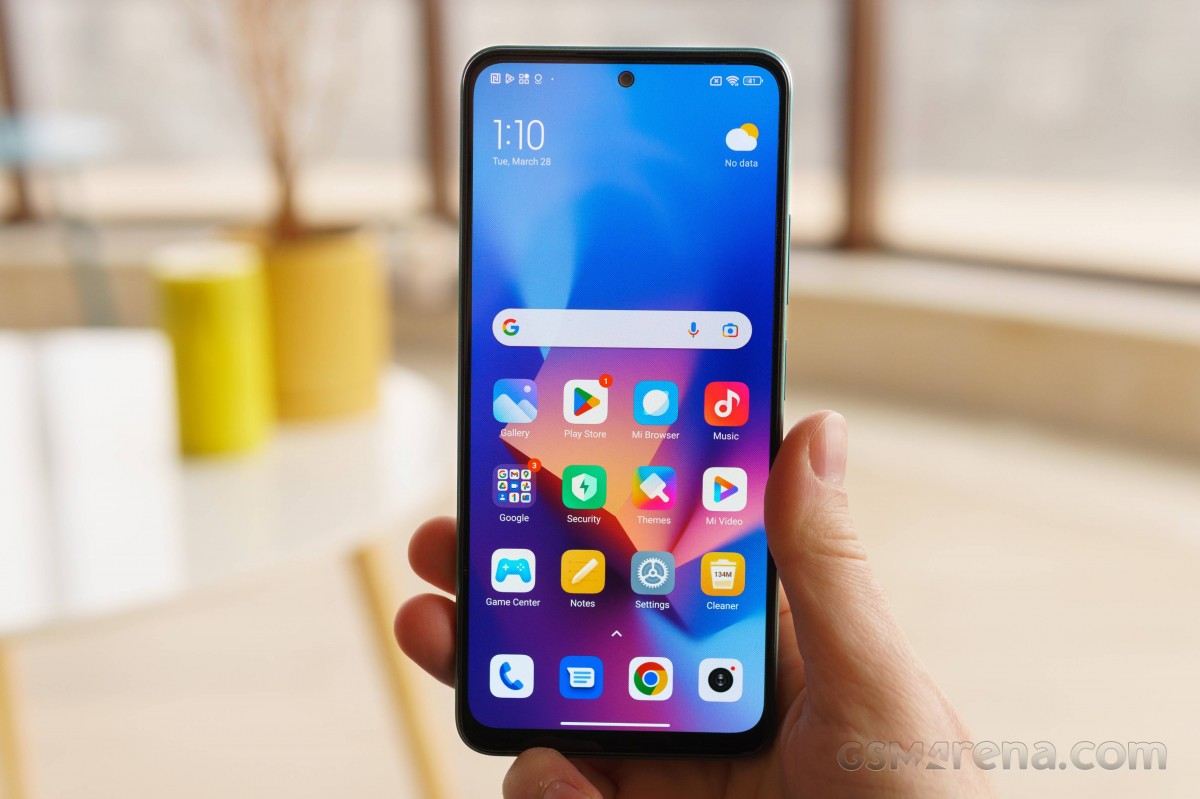 The side frame is also made of plastic with a matte finish. On the right side is the volume button along with the power button, which also acts as a fingerprint sensor.
The power button is just within reach of the thumb, but the volume button requires a stretch.  It is difficult to distinguish between these two buttons. They are almost identical to touch and sometimes you can hit by mistake.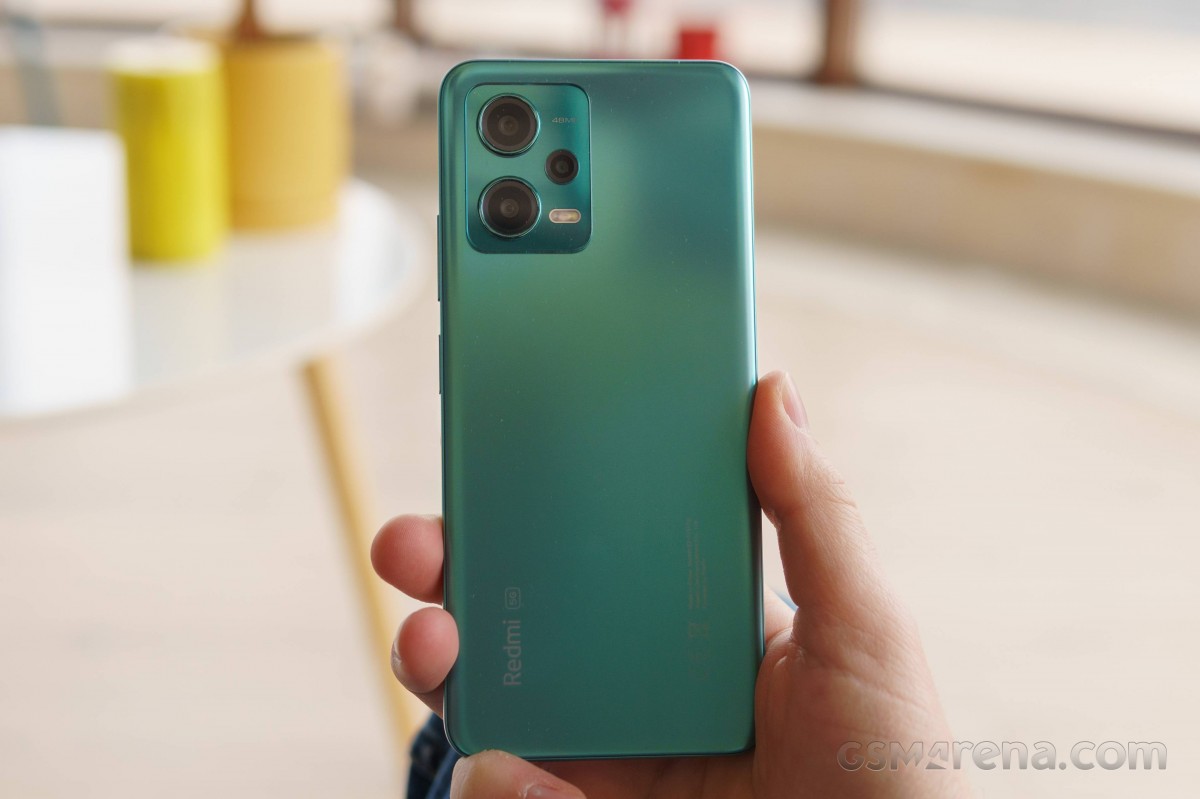 The left side only houses the SIM/microSD card tray, and at the bottom, we see the USB-C connector and the speaker grill. The 3.5mm audio jack is placed on the top of the frame to accompany the IR blaster.
The front is quite similar to the 4G version, which is not surprising given that the two devices share the same panel.
The top and side bezels are relatively thin, but the bottom chin is quite thick.
This usually applies to cheap phones.
At least the selfie camera notch is very small.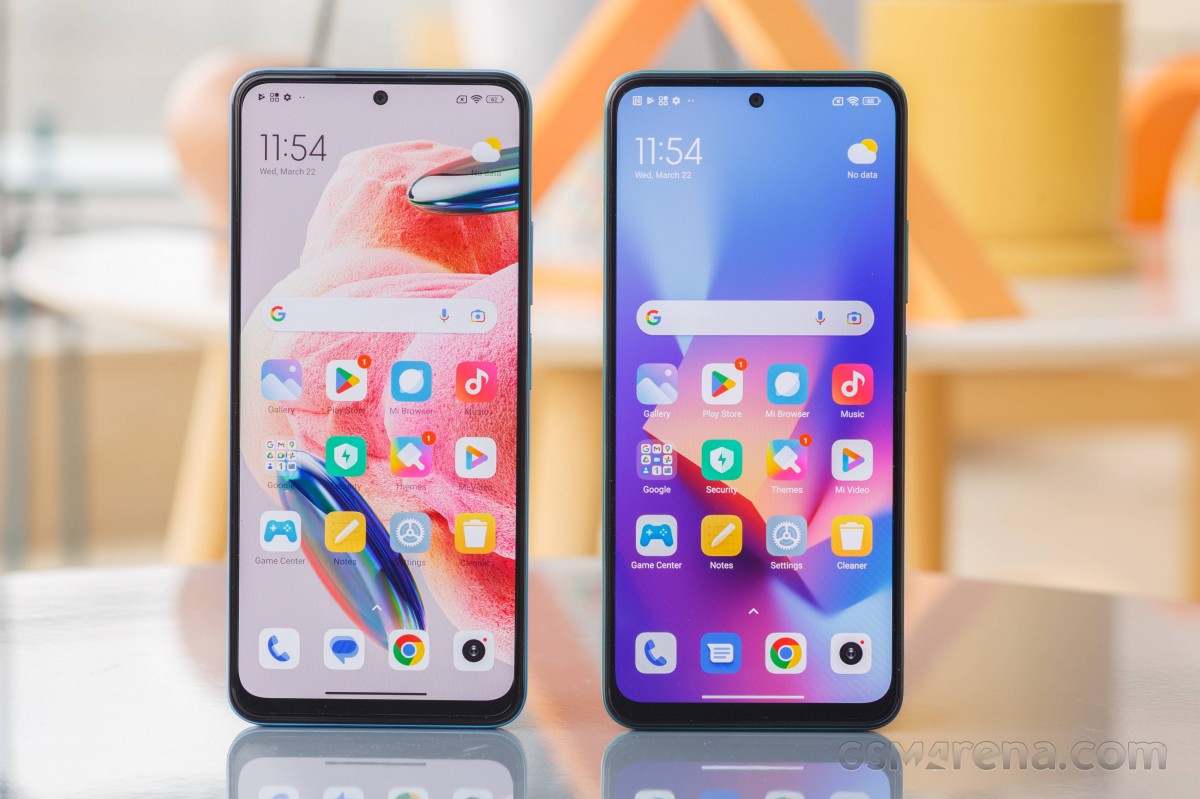 And even though the front panel is completely flat, the sides aren't sharp and don't create an awkward gap or bulge where it meets the side bezel.
Overall, in terms of design, the Redmi Note 12 is decent.
It's quite lightweight, weighing in at 188 grams, which isn't too shabby for a 6.67-inch smartphone.
Maybe it's a bit heavier, which gives the impression of a heavier phone.
The IP53 certification against dust and splashes is also a nice bonus in the sub-€300 price segment.
Xiaomi Redmi Note 12 screen review
Both Redmi Note 12 4G and Redmi Note 12 5G have the same display panel – AMOLED, 1080 x 2400 pixels resolution, 6.67 inches diagonal and 120 Hz refresh rate. There's no HDR video capability, but we didn't expect that.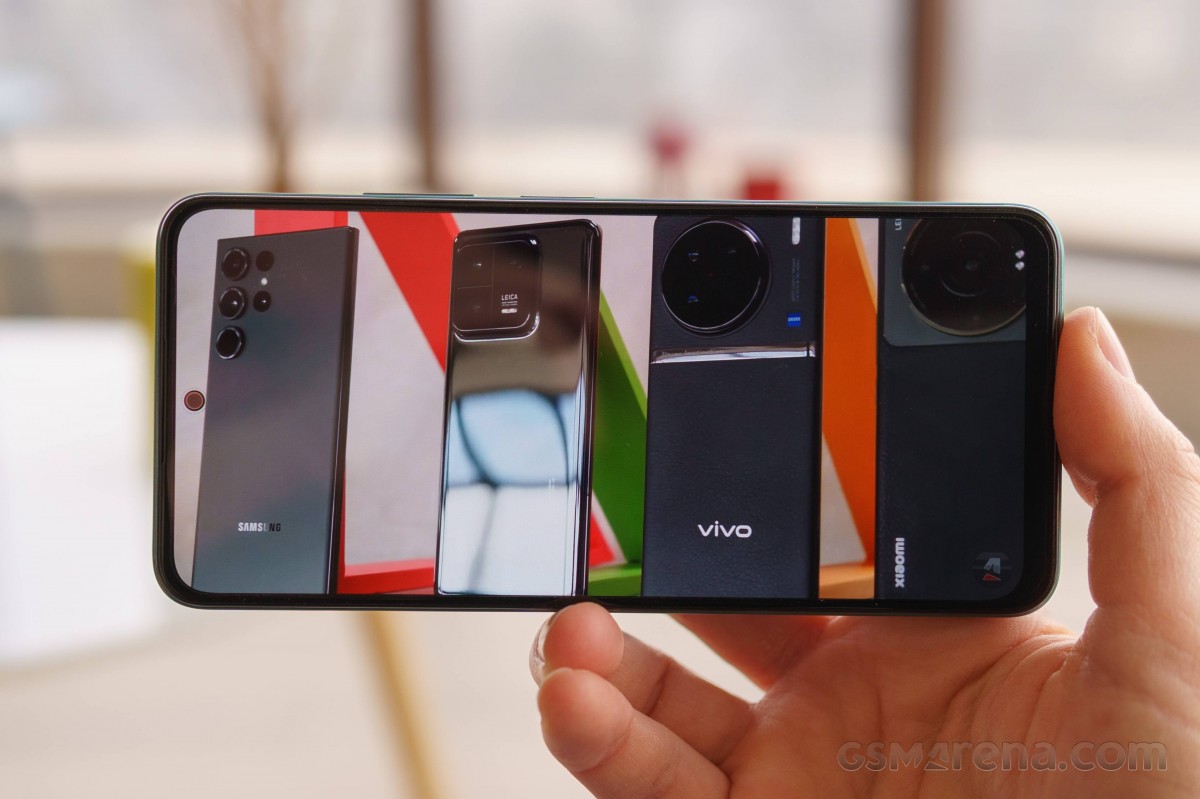 And since the two phones share the same panel, our test results were identical for all intents and purposes.
In manual mode, we got a maximum brightness of 447 nits, while in auto mode, the panel maxed out at 706 nits.
These are close to our 474 and 744 nits respectively on the 4G version.
Don't mind the difference of 30-40 nits.
This is a fairly standard deviation in different units and is hardly noticeable.
In short, with the Redmi Note 12, you get a bright enough OLED display that offers excellent readability in sunlight.
When it comes to color reproduction, we got the best results in the so-called standard color mode.
The dE2000 we measured against the sRGB color space was 1.4, which is impressive – this is a color-calibrated display if we've ever seen one.
HRR control
High refresh rate control is very simple.
It is actually very simple.
The software doesn't drop down to 60Hz when the on-screen interface is disabled, and it only does so when you launch a video player like YouTube, Netflix, or the Gallery app.
In all other scenarios, you will have a constant 120Hz.
This approach increases overall power consumption, but it's not noticeable – the Galaxy A34 we recently reviewed behaved in much the same way.
 Battery Life

The Redmi Note 12 relies on the same 5,000 mAh battery as its 4G counterpart, but also uses a different chipset that is said to be more efficient.
And judging by the on-screen tests, it's somewhat better in the web browsing scenario, but it didn't last as long in the video playback test.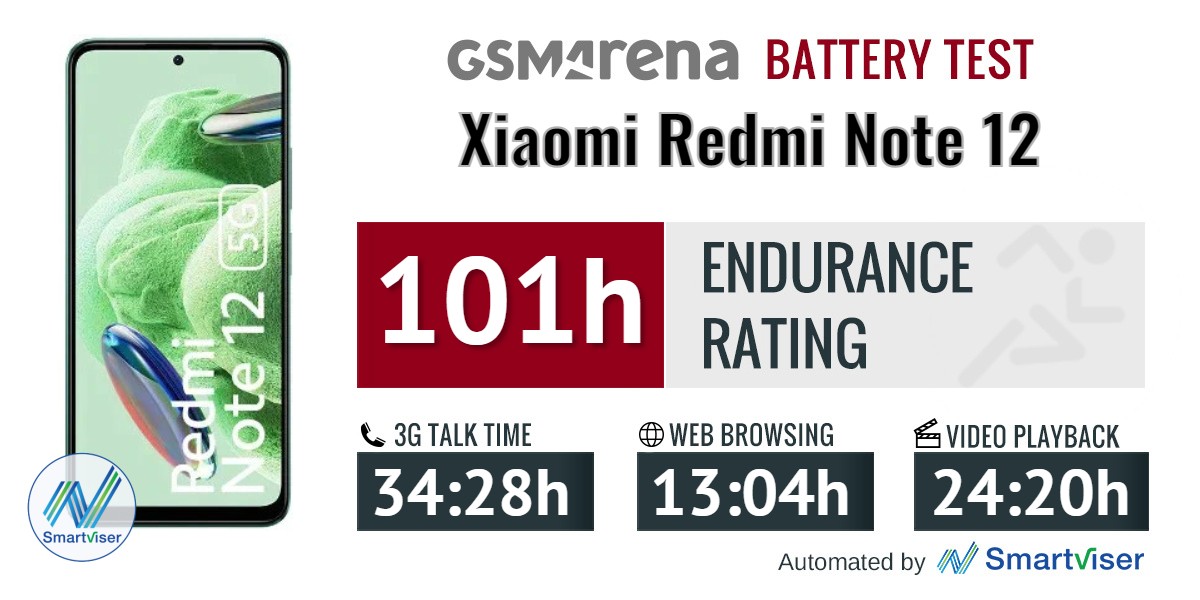 Either way, we're happy with the screen-on runtime, but the phone gets a 101-hour endurance rating due to its poor standby time.
This is a small amount for a cheap smartphone with a large battery.
This seems to be a common issue across the entire Redmi Note 12 lineup.
Standby power consumption seems to be higher than normal for all of them.
 Charging speed
Both Redmi Note 12 phones have the same battery and charging standard. We doubt that chipsets make a difference in the equation, and the results bear this out. The 5,000 mAh battery is fully charged in one hour and eight minutes using a 33W charger, while you'll see 56 percent charge in 30 minutes. The difference between charging times on both devices is very small and can easily be explained by statistical error.
Compared to competing solutions, the Redmi Note 12 performs well. The supported 33W fast charging is very suitable for the price category.
 Speakers
This year, the vanilla Redmi Note has given up the speaker setup and relies only on the bottom speaker. This is a bit disappointing as the Redmi Note 11 offered a stereo setup from last year.
In any case, the loudness is not amazing, but it is "good" enough at -28.1 LUFS. You should not expect much in terms of quality. The bass is dull and the high frequency sounds start ringing at a higher volume.
And while there weren't many alternatives to the Redmi Note 12 4G with stereo speakers, many of the Redmi Note 12 5G's competitors have stereo speakers.
 Performance and Software
Surprisingly, the Redmi Note 12 5G will receive an older Android 12 at launch. , remember it. Feature-wise, this shouldn't be a problem as most MIUI phones share the same feature set, barring hardware limitations. That means both devices get essentially the same software, but the 4G iteration has the latest Android 13 as its base. And we prefer to keep the latest version of Android safe for the future, especially since Android 13 has been around for over half a year.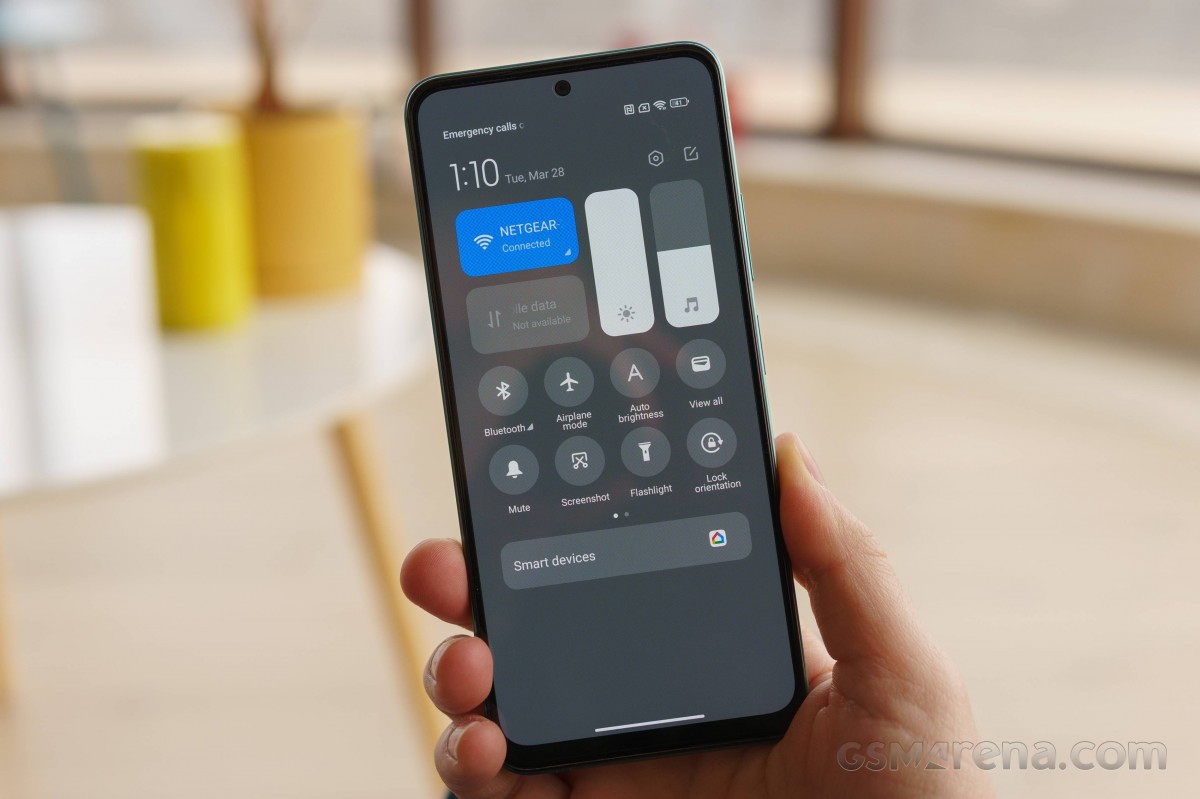 MIUI 14 is apparently built almost from scratch as engineers have reworked the original MIUI ROM architecture at the Android kernel level.
This includes new CPU, GPU and memory timings, smaller operating system size and overall reduced memory consumption.
As a result, Xiaomi claims a 60% smoother experience and more optimized processes.
There is also automatic compression for programs that are not actively used.
Unfortunately, however, these are not features we can reliably test and verify.
In terms of features, we found some MIUI 14 features advertised. The new enlarged folders are here, and the Gallery app gets native text recognition in addition to Google Lens integration.
New large folders are also available on the main page.
However, XXL size folders are nowhere to be found, so you can choose between Regular and Enlarged.
Other features like smart device switching for easier management of Xiaomi smart devices, new widgets and a switch to turn off persistent notifications are nowhere to be found.
We are also still waiting for the notification history option which is an Android built-in feature.
The rest is business as usual, and we'll try to focus on features that are somewhat unique to MIUI or are somehow standout functions.
The split between Notifications and Control Center is enabled by default, and that's probably a good thing.
We found this to be very convenient and a way to teach users about MIUI's unique approach to the user interface.
And if you're not a fan, you can always switch back to standard notifications by swiping in a location.
Home screen, recent apps and general settings remain unchanged.
The app drawer is also enabled by default, and we like that Xiaomi has placed the search bar at the bottom of the screen for easier access.
There are custom and preset app categories for faster navigation.
Unlike the standard apps menu of late, the MIUI menu lists apps vertically (you can switch to the standard horizontal orientation) and offers several useful shortcuts.
This is where you can open apps in floating windows.
However, you can keep a maximum of one application open at a time.
If you want a faster shortcut for apps that support open windows, just enable the sidebar.
Themes have always been a big part of MIUI and they are available in MIUI 14 as well.
You can download new ones from the theme store, and they can change wallpapers, ringtones, system icons, and even the always-on display style.
Of course, in addition to the preset settings, there is also an always-on display setting.
The Notification effect lights up the edges of the screen when new notifications come in, but there's no customization other than a few different colors and a Starlight option.
This effect can work with or without AOD.
Moving towards privacy and security, MIUI comes with a pre-installed system security app.
Aside from the extra layer of malware protection it provides, the app keeps many of the app's settings and privacy features in one place.
It can manage your blacklist, manage or limit your data usage, configure battery behavior and free up some RAM.
It can also manage the permissions of your installed apps, define the battery behavior of selected apps, and apply restrictions to only certain apps.
All in all, MIUI 14 has changed little in terms of overall user experience compared to the 13th iteration, and that's not a bad thing.
Fast and customizable as always.
Xiaomi has paid special attention to the touch part of this device and we found that its engine is clear, strong, accurate and responsive.
It reacts to many actions throughout the system and during navigation.
Even if it is not intrusive or strong enough, there is an intensity of tactile feedback.
Benchmark performance
The Snapdragon 4 Gen 1 was released over half a year ago, but this is our first time playing with it.
The adoption rate of some recent Qaulcomm chipsets has been relatively slow.
In any case, the Snapdragon 4 Gen 1 is supposed to replace the Snapdragon 400 series chips that offer higher performance and performance.
The chip is based on TSMC's 6nm production node and uses an octa-core CPU.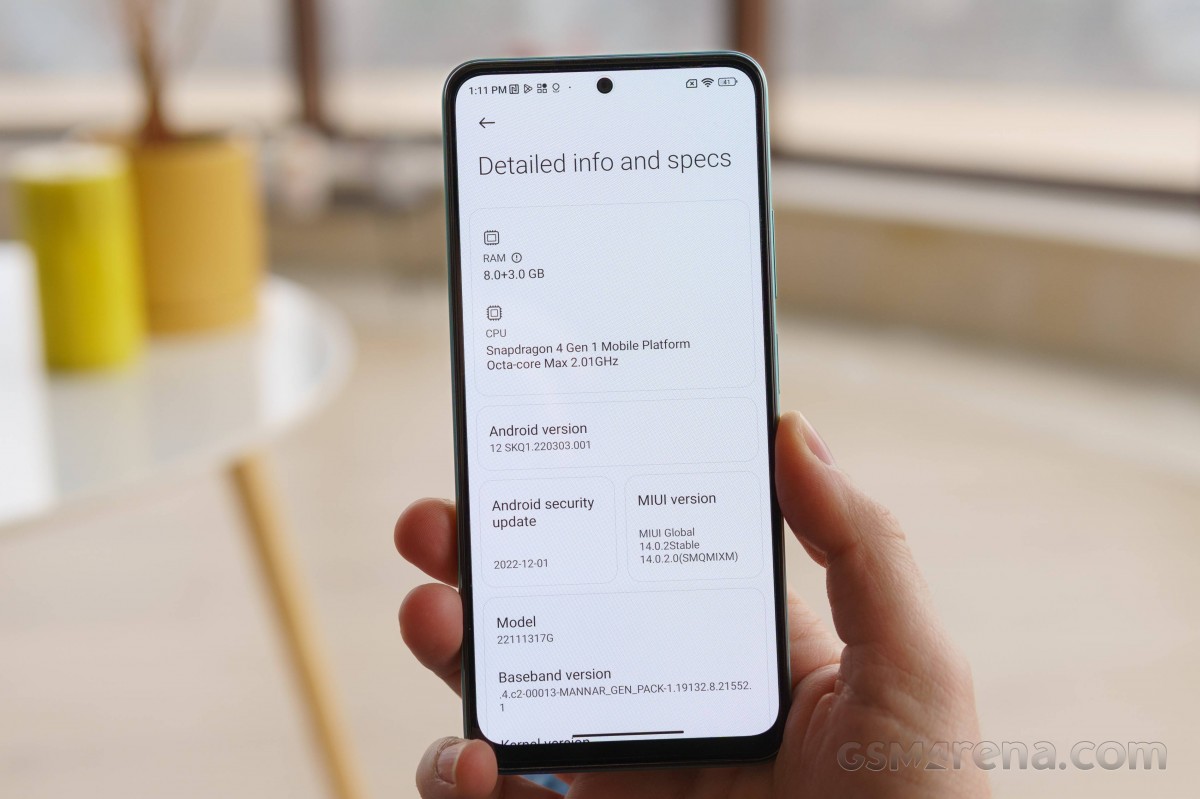 The CPU itself consists of 2 Cortex-A78 cores clocked at 2.0 GHz while the other cores are 6 Cortex-A55 cores clocked at 1.8 GHz.
On the other hand, Adreno 619 handles tasks that require graphics processing.
This GPU is specifically used in many of the Snapdragon 600 and 700 series chipsets, so it's welcome at the lower end of Snapdragon.
The device we are reviewing is the flagship version with 8GB of RAM and 128GB of internal storage.
Otherwise, this phone will be sold in two models of 4.128 GB and 6.128 GB.
Now without further ado, let's get to the benchmarks.
Unfortunately, we weren't able to run a full set of benchmarks on the Redmi Note 12 5G as some were limited.
However, Geekbench and AnTuTu are sufficient to measure the overall performance of the Snapdragon 4 Gen 1.
And besides, we have already tested a lot of Adreno 619 GPUs in our database.
The 1st generation Snapdragon 4 performs well against other chipsets in the same price range.
It lags behind the competition in single-threaded workloads but keeps pace in multi-core CPU scenarios.
In composite tests, the SoC lags behind the rest.
It only beat the Snapdragon 685 in the Redmi Note 12 4G and last year's Redmi Note 11 with the same Snapdragon 680.
Other phones that use the Snapdragon 695 clearly have more power under the hood.
Even Samsung's Exynos 1280 chip performs better in two of these scenarios.
It lags behind the SD4 Gen 1 only in the single-core Geekbench test.
Xiaomi Redmi Note 12 camera review
The camera settings are slightly different from the 4G version of the phone. The primary camera here has been replaced by a 48-megapixel camera paired with an f/1.8 aperture. Apart from the main camera, the rest of the camera hardware is the same in these two phones.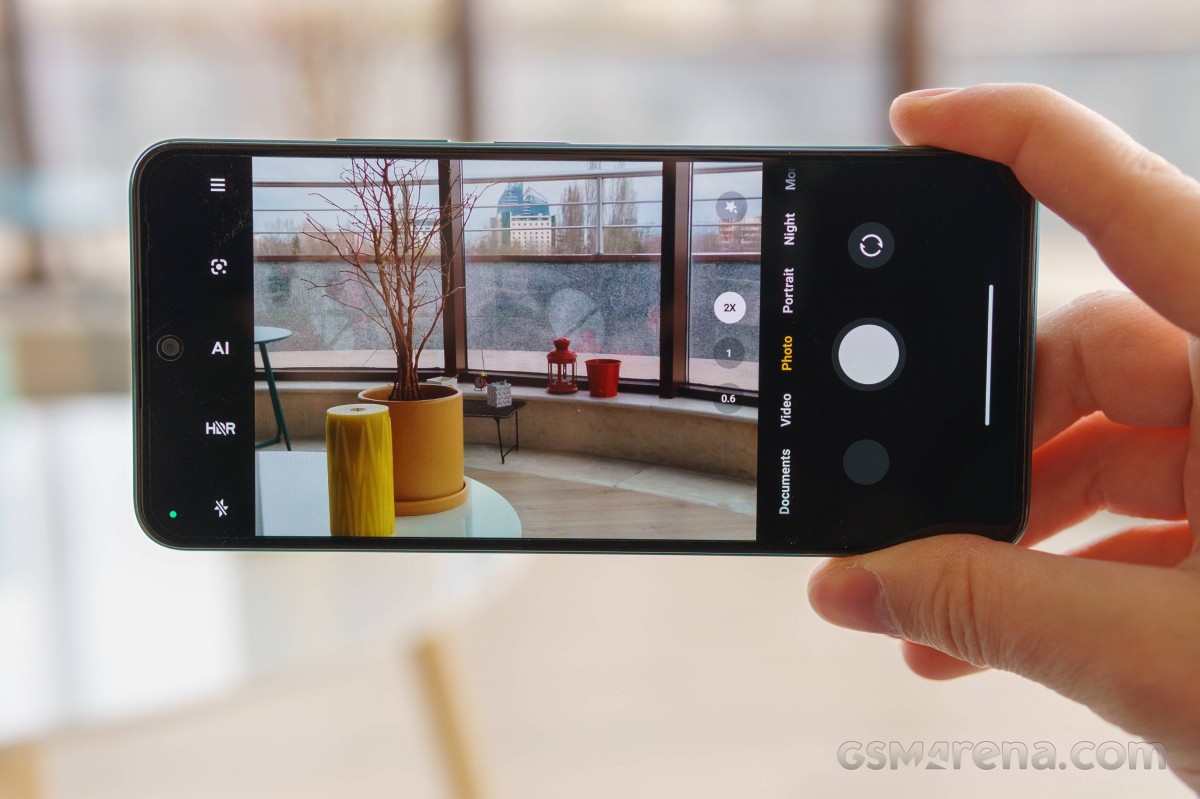 We've got an 8-megapixel f/2.2, 120-degree, 1/4-inch 1.12μm ultra-wide camera on the back, along with a 2-megapixel f/2.4 macro camera.
For selfies, the Redmi Note 12s uses a 13-megapixel, f/2.5, (wide), 1/3.0-inch screen.
Camera menus
The camera app is a fairly simple implementation, though it has its quirks.
First, the main operation works for switching modes using sideswipes, and you can also tap on the modes you see to go directly to them.
Up and down swipes do not work to switch between front and rear cameras.
Only the button next to the shutter does this.
You can add, remove, and reset modes in the main rolodex by going to the More tab and clicking the Edit button, and you can also access it from the Settings menu.
Unused modes will still be in that More tab, but you'll be able to switch to a (less visual) pull-out page called up from a line next to the shutter.
The hamburger menu at the bottom is where you'll find additional options, including macro mode.
Next to that hamburger menu, you have a flash mode switch, an HDR switch, an AI key, and a shortcut for Google Lens.
We noticed that the HDR switch always turns off after closing the camera app.
So be aware of that and always check if the HDR switch is turned on.
We recommend keeping it on, even though the software rarely selects HDR mode.
As expected, there are additional modes, including Long Exposure with a selection of different presets – Moving Crowd, Neon Trails, Oil Painting, Light Painting, Starry Sky, and Star Trails.
Night mode is only available on the main camera and in 2x zoom mode.
Photos taken during the day
Main camera
The Redmi Note 12 takes decent photos as long as the lighting conditions are right.
However, it is unrealistic to expect great quality from a phone under 300 euros.
However, keep in mind that these photos were taken under a heavily overcast sky, so that may cloud your judgment.
Overall, noise is the most important issue here.
There's a lot of graining around, mostly in shadows and homogenous backgrounds.
Also, if you take pictures one after another without waiting a few seconds, each picture after the second one becomes very noisy, indicating that the ISP's performance may be limited.
Otherwise, we find the photos sufficiently detailed, sharp enough, with natural colors and acceptable dynamic range.
However, the contrast is slightly higher than the Xiaomi model.
This often produces grainy looking photos and sometimes overly dark shadows.
Compared to the Note 12 4G's cameras, the 5G's camera is an overall better camera.
The 4G version produces noisier and darker photos with sharper contrast.
Colors are also nicer in 5G iterations.
Double zoom
This mode has the same features as the standard 1x mode and overall processing, but noise is more obvious, everything is noticeably smoother, and you can see jagged straight lines from a distance. The upgrade to 12MP is pretty obvious.
Ultra wide camera
As is often the case, ultra-wide cameras produce less-than-optimal photos in the low-end and mid-range categories. No matter the lighting conditions, noise abounds, sharpness is lacking, and fine detail is completely lost. Xiaomi has boosted the contrast and colors for a more attractive look and to some effect.
Macro camera
The macro camera uses a small 2MP sensor with fixed focus, so getting decent macro shots is a challenge. Not enough detail, although resolution is good. The lack of contrast and vivid colors makes it really hard for us to recommend using a macro camera.
Photos taken at night
Main camera
As was the case with the 4G version, the main camera of the 5G variant also struggles to deliver good photo quality in low light. Dynamic range isn't ideal as we can see crushed shadows, there's noise all around, and photos tend to be soft and lacking in detail. However, we found that the 5G version produced better colors, the contrast was significantly higher and the highlights looked better.
A dedicated night mode is a hit or miss.
In an attempt to remove noise, the algorithm smears out what remains of detail in the photo.
In fact, in some cases, with night mode on, the night sky looks very grainy.
The only benefit of using night mode is that it raises the shadows and introduces more detail there.
When it comes to low-light performance, both devices are quite comparable.
The only noticeable difference is in colors and contrast.
The same goes for night mode photos.
Double zoom
Not much to say about the 2x zoom examples. This mode is unusable with or without night mode. All the problems we found with the 1x zoom mode are amplified here.
Ultra wide

camera
With a weak ultra-wide camera during the day, it's unrealistic to expect good low-light photography.
They are very soft, noisy, with washed out colors and poor dynamic range.
Here's how the main camera on the Xiaomi Redmi Note 12 stacks up against the rest of the competition in the controlled environment of our photo comparison tool.
portrait mode
The portraits were very solid.
Edge detection makes the bokeh effect quite convincing even with a more complex background or foreground, and as long as there's plenty of light, you can expect sharp, noise-free images with sharp colors and somewhat natural skin tones.
However, the slightest drop in ambient light causes noise and sometimes blurs the photos.
selfie camera
The selfie camera needs a bit more stability.
If you can hold your hand steady enough and have good ambient light conditions, you can expect decent photos with good clarity and detail.
But more than half of the samples we shot were unacceptably blurry, and the ones shot in average room light are downright soft.
The colors are also a little dark.
Filming
Video recording capabilities are minimal, but good for the price.
Redmi Note 12 5G supports video recording up to 1080p@30fps and EIS is always on, never turn it off.
Recording with the main camera guarantees decent results.
The video is a bit soft even for Full HD resolution, but it has decent contrast, nice colors, and even with heavy cloud cover, the software managed to successfully balance shadows and highlights.
Ultrawide's ability to record video is very limited.
It is very foggy and noisy.
There are no fine details and the colors are washed out.
Hard to recommend even in good light.
Review of the competitors of Xiaomi Redmi Note 12
The Xiaomi Redmi Note 12 comes with a decent price tag, which is what you'd expect from last year's Redmi Note 11 series.
In fact, this phone can be found in the mid-200-euro range, making it a more desirable option.
And what's not to like?
It has a great 6.67-inch 120Hz OLED panel, a new Snapdragon 4 Gen 1 chipset, a large battery with respectable fast charging, and the holy trinity of features – a 3.5mm audio jack, a dedicated microSD card slot, and a radio. It is FM.
A very popular set of features in low to mid range smartphones.
And although it depends on the market, NFC appears to be present on our international unit, which was not the case with the 4G version.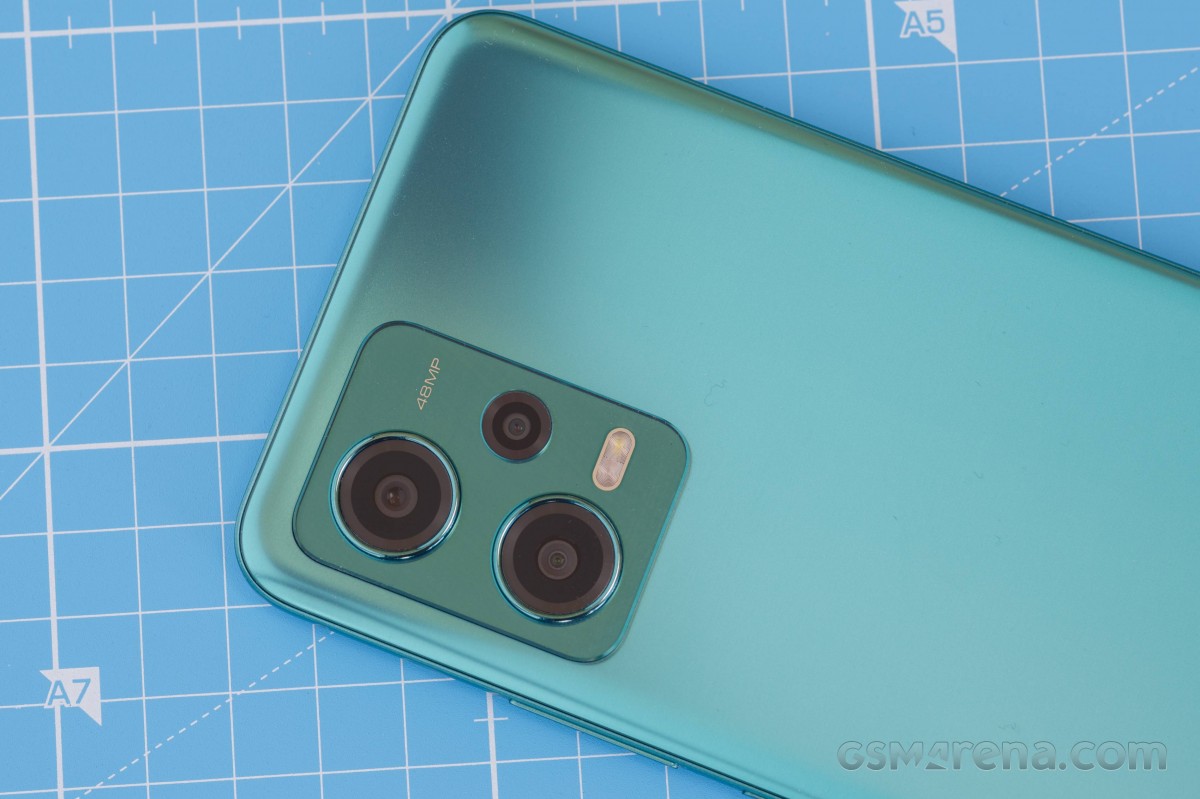 When it comes to competition, the Redmi Note 12 has plenty of competition.
Most of them are last year's models, but that shouldn't be too much of a concern since the 2022-2023 timeframe didn't see a huge leap in silicon technology or anything hardware-related.
So with 2022 mid-range phones dropping in price, they will certainly do the trick.
The Samsung Galaxy A33 with a price of 260 euros is a good example. Its panel may not run at 120Hz, but it's still very strong in terms of quality and overall brightness. The Exynos 1280 is significantly faster than the low-end Snapdragon 4 Gen 1. It has comparable battery life and a set of stereo speakers. The Samsung competitor is also IP67 certified against water, dust and offers a relatively better all-around camera experience and the ability to record 4K videos.
Alternatively, you can always opt for the 4G version, which offers almost the same user experience.
The chipset may not be as fast as SD4 Gen 1, but it runs on newer Android and offers better battery life.
Summary
Just like its 4G counterpart, the Redmi Note 12 5G is a solid all-rounder with no complaints.
The phone has a great OLED panel, decent battery life, although we expected more from it, like competitive fast charging, a reliable main camera, and a dedicated microSD card slot.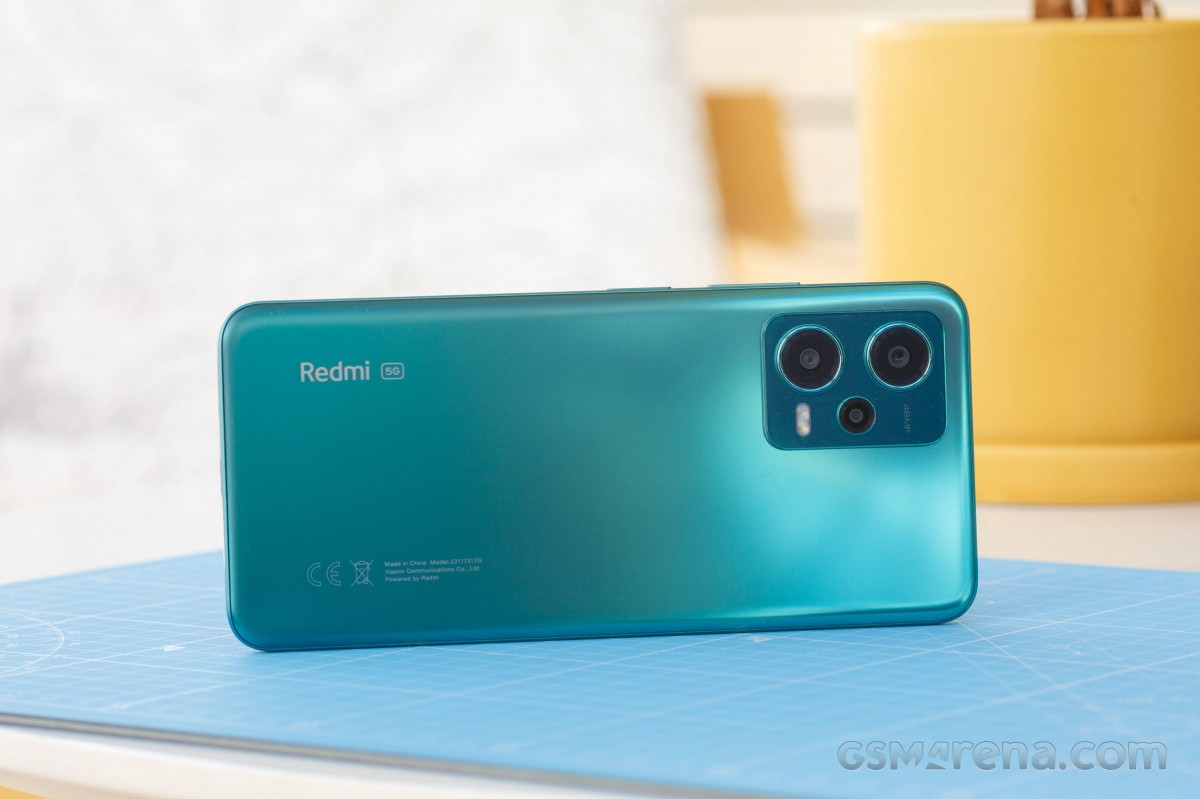 However, with a cheaper 4G version with an almost identical user experience on one side and some strong alternatives with the same price tag, the Redmi Note 12 is in a tough spot this year.
The omission of the stereo speakers from last year is a mistake, and the battery life is also outstanding.
Once the price comes down a bit, the Note 12 might become more compelling.
But for now, consider some of the options we mentioned above.
Why should we buy Xiaomi Redmi Note 12?
Comfortable design, IP53 rated.

Exceptional and bright 120 Hz OLED screen.

Suitable charging speed

, 3.5 mm jack, FM radio, IR blaster, microSD slot.

The main camera performance is decent if not impressive.
Why should we not buy the Xiaomi Redmi Note 12 phone?
Disappointing ultra-wide cameras and selfies, no 4K video recording at all.

Without stereo speakers,

there are phones with better chipsets for the same price.
Source: GSMARENA.COM