The best graphic games for Android 2023
What are the best graphic games for Android? We will introduce heavy Android games with powerful graphics in 2023.
The best graphic games for Android 2023
Mobile games have become a booming business and these are some of the most graphic titles you can play on your Android device.
Also read: The best multiplayer strategy games for Android 2023 with direct download links
Mobile games continue to grow and there's more to it than just Candy Crush. Everyone has a lot of time on their hands from time to time, and these hands are often used to play mobile games, which are currently the most popular form of gaming (like it or not). Some of the world's biggest franchises thrive on handheld devices, and developers have pushed the technical capabilities of phones and tablets to their limits.
With the latest devices coming with 8-12GB of RAM and octa-core processors, there's a lot of power inside these little devices. You don't necessarily need a high-end phone or tablet to play these games, but you definitely do if you want to see their best graphics. Just make sure you have a charger handy because these games will also drain your battery.
Android and mobile aren't often considered a great platform for modern gaming, but in recent years there have been plenty of games that prove that stereotype wrong. Modern smartphones have come a long way in terms of technological capabilities. Many smartphone games now have advanced visuals and graphics that fully immerse you in the game, even on a small screen. From triple A games adapted for phones to unique mobile games. Many fantastic games have been released for Android and mobile that are worth checking out. This list has been updated to include other best graphics games for Android that you should play next.
The best graphic games for Android 2023, the best games for Android
Life Is Strange
One of the best Android games, it is a wonderful episodic game. You take on the role of Max, a photography student who discovers he can turn back time. This game has an interesting story, interesting characters and wonderful art style. This game is adapted for Android and mobile devices. It even has some unique mobile features, such as stickers and the ability to easily share your progress on social media.
If you haven't checked out this awesome story-driven game, you're missing out. You can stream the first episode for free and then you can buy the rest of the episodes with a season pass. So, it doesn't hurt to give it a try to see if this game is right for you. It's a big, graphically demanding game, but it's worth it.
Game prerequisites:
1- Having at least Android 6 (Android +6.0)
2 – Having at least OPENGL 3.1
3- Having an ARM 64 processor
4- having a medium to high story (at least 2 GB of RAM)
5- Having at least 5 gigs of space
 Apex Legends Mobile
Apex Legends has made it to mobile phones. This is a brutal shooting game and action battle royale and now you can play it anywhere you want on your phone. The graphics can be overwhelming, so you might want to check the settings a bit before jumping into battle. But in high-end devices, you will have a very exciting experience.
This version is a worthy alternative for those who are fans of the original game. It even has game modes unique to mobile, including new maps and legends to play through. You can team up with your friends or go it alone.
Alien: Isolation
Alien: Isolation is a terrifying experience, but it is also called one of the best Android games. It perfectly portrays a tense and scary atmosphere throughout. In this horror game, you take on the role of Amanda Ripley and investigate her mother's disappearance and soon find yourself trapped by a deadly xenomorph. It's a AAA game brought to a smaller screen, so it's a big, heavy game to play. Make sure your phone can handle it first, but it's worth experimenting with.
The game's user interface is designed for mobile and allows you to easily move around and build things. This version of the game also includes all the DLC, so there's plenty of awesome content for you to enjoy.
Infinity Blade 3
The Infinity Blade series has been at the forefront of mobile gaming for the longest time. These games were challenging, took full advantage of the smartphone's touchscreen, and evolved dramatically over the course of its run.
The final game in the trilogy is also one of the best by a country mile. The gameplay improvements of this title are certainly to be commended, but one cannot ignore the stunning visual brilliance of the game that still stands!
Fantasian
Hironobu Sakaguchi's latest foray into the JRPG scene is also quite fascinating in its own right. Fantasian is a brilliant game that most fans of the genre should definitely check out.
Among the best Android games of 2022, the game's brilliant pre-rendered environments, along with its amazing art style, make it one of the most beautiful games on the App Store. Its modern visuals definitely mean that only high-end systems can run this demanding game.
Dead Cells
Dead Cells, by all rights, should be a game people know for its incredible gameplay. If you give this lesser-known title a try, you'll realize that Dead Cells is easily one of the best games out there.
The fact that it has also been released on mobile means that even more players can see this masterpiece. Just keep in mind that touch controls may not be the best way to deal with the violence of dead cells.
Exos Heroes
Gacha games are widely available in the mobile video game market. After all, this is one of the best ways to maintain a steady level of profit!
Exos Heroes is one of the most beautiful gacha games you can try on your phone. Just keep in mind that working in this game is quite boring at times and the need to spend real money for any progress becomes a reality sooner rather than later.
Sky: Children Of The Light
The prominent developers of Journey have released a game on mobile devices that is as beautiful as it is introspective. Sky: Children of the Night is a unique game that every mobile game fan must try.
One of the best Android games of 2022, this game receives constant updates and is a great way to unwind after a long day. If you are looking for a beautiful and relaxing experience in the palm of your hand, you should definitely check out Sky: Children Of The Light.
Dead Trigger 2
One of the best graphics games for Android 2022 in the horror genre: Dead Trigger's original gameplay was basically a clichéd zombie shooter that didn't really have anything new to bring to the table. That being said, it has to be admitted that the graphics of this title were excellent for a mobile title.
However, Dead Trigger 2's visuals completely blew away its predecessor. This game is easily one of the most graphically demanding mobile games of all time, and any mobile user with a powerful device should definitely try this game to push their system to the max.
Endless Nightmare
Horror games are quite prominent in the mobile gaming market. However, of all the games on the store, it has to be admitted that Endless Nightmare's visuals are in a class of their own.
If you want your mobile crawler experience to have a sense of visual class, you must download Endless Nightmare. By the way, this is one of the most graphic Android games.
The Room: Old Sins
The Room is one of the best mobile game franchises. It makes the most of the touchscreens available on modern phones and uses a type of gameplay that feels very natural on these devices.
One of the newest games in the series, The Room: Old Sins obviously boasts the best graphics in a trilogy that is known for its visual effects. If you have a powerful device, you can surely enjoy this graphically demanding mobile game to the fullest.
Chaos Rings III
Square Enix is ​​no stranger to the mobile video game market and has released numerous ports of its acclaimed titles to mobile devices. In addition, they have also released several original IPs, the Chaos Rings trilogy being the most notable.
The third game in the series is easily one of the heaviest games for Android devices, although most people consider the second game to be miles ahead in terms of gameplay and story. Regardless, there's no denying the fact that if you want to try a JRPG with great graphics, you shouldn't be looking for Chaos Rings III.
Black Desert Mobile
Among the best Android games in the RPG genre, Black Desert is one of the most underrated MMORPGs out there, with most people praising its graphics for being fantastic. So, it's great to see that the game is finally getting some much-needed attention in international markets…including a mobile port as well.
Black Desert Mobile is easily one of the most demanding mobile games. However, if you have a phone with great specs, you should definitely give this title a try.
PlayerUnknown's Battlegrounds Mobile
The game that made the battle royale genre one of the most popular games of today, PUBG was first released for PC in 2017, before coming to mobile the following year. As long as you have the internet power to stay competitive, you can expect it to graphically max out your device as well.
If you've got the horsepower, go to Extreme mode at up to 90fps, which is a significant advantage over weaker machines. Graphics may be less important than frames per second for the competitive player, but if you really want to enjoy the scenery, there are HDR and Ultra HD settings.
Nimian Legends: BrightRidge
While the Nimian Legends games are not well known, they are one of the most beautiful games on mobile platforms. BrightRidge and its sequel, Vandgels, are beautifully designed open-world RPGs set in fantasy worlds. The menu is full of graphical options, so you can choose the most important aspects or you can maximize everything to get the full effect.
Both games also feature an explore mode so you can admire the scenery without worrying about enemies, and a photo mode to capture the best the world has to offer.
Call Of Duty Mobile
Call of Duty Mobile is one of the best graphic games for Android 2022: Another series that needs no introduction is Call of Duty, which has been a staple of games for years, and in 2019, Call of Duty Mobile was launched on handheld devices. Within a year, it amassed 270 million downloads and won awards for Best Mobile Game at the BAFTA and Game Awards.
Again, you'll need one of the latest phones, but if you're lucky enough, you can expect up to 120fps. You can also lower the graphics quality and increase the fps as it won't affect your ability to see (and shoot) the enemy.
Asphalt 9 Legends
If you love road and racing games, Asphalt, one of the best Android games, can be the best mobile gaming experience for you. The Asphalt series has always pushed the graphical capabilities of mobile devices as far as they could, and their latest game is no exception. With HDR graphics and a maximum speed of 60 frames per second, it is one of the most beautiful racing games on mobile.
There's plenty of content too, with over 50 different cars and 800 different events, as well as professional and multiplayer modes. Along with regular seasonal updates and additions, the game should keep you busy while you enjoy the beautiful graphics.
Shadow Fight 3
Fighting games aren't always relevant to mobile, but if you're going to play one, this is the best look. Although it's not just a fighting game, it's also an RPG. Your playable character has customizable images and weapons, and you'll unlock more equipment and skills as the story progresses.
Over 3 million reviews on the Play Store have given the game an average rating of 4.3 stars, with many praising the graphics and animation. With images up to 1440p and 60fps, it's certainly easy on the eyes.
Fortnite
Fortnite is one of the best graphics games for Android 2022: It's the most popular game in the world, and although you have to jump through a few hoops to download it, you can still get Fortnite on Android devices (directly from their website or through the Epic app Games in the Galaxy Store if you have a Samsung device).
Fortnite runs at 60 frames per second on mobile devices, although this comes at the cost of reduced resolution. The iPad Pro was actually capable of 120fps, so it's possible that Epic might add that capability to Android at some point.
Shadowgun Legends
Another first-person shooter game that will test your phone to the max is Shadowgun Legends, the third installment in the Shadowgun trilogy. Each of the games are award-winning, and it's not hard to see why when you check out the graphics on a high-end mobile device.
Legends runs at 60fps, but if you combine that with the highest graphics settings, there are many reports of phones running hot. If you want both fps and graphics, you really need a very powerful machine.
Real Racing 3 is one of the best graphics games for Android 2022
Real Racing 3 is a racing game for real racing fans, believe it or not. This game is all about a real racing experience, with real tracks, real cars and real drivers. Would you like to face Hamilton and Vettel in a Formula 1 season? Then this game is for you.
One of the game's biggest draws is the Time Shifted Multiplayer algorithm, which creates fully interactive opponents based on the results of other players, not just ghosts. But the graphics of this game can't be underestimated, because it has real damage on the cars and functional rearview mirrors.
Genshin Impact
Genshin Impact is a recent game that has made a huge impact. A vast open world with lots to do, pre-existing content will keep you busy for hours, and more content is always on the way.
Even without doing missions, you can enjoy running or gliding around just admiring the scenery. On the most powerful devices, you should max out at 60fps. It also cross-saves with PC, so you can play on the big screen at home and then pick up where you left off on mobile.
ARK: Survival Evolved
Among the best graphics games for Android 2023 : Another one that successfully jumped from PC and console to mobile, Ark: Survival Evolved is a popular survival game that has been downloaded more than 10 million times on the Play Store. Stranded on a desert island full of dinosaurs, you must use what you find to feed yourself, build shelters, and protect yourself from the local wildlife.
Frames per second may be capped at 30, but that's not too much of a problem for games like this. On higher end devices, you can increase the graphics quality and enjoy really beautiful dinosaurs.
Source: www.thegamer.com

Samsung Galaxy A54 review, specifications
Samsung Galaxy A54 review. Check the price, technical specifications, camera, hardware, software, battery, charging speed and other features of the Samsung Galaxy A54 phone.
Samsung Galaxy A54 review, specifications
Introduction
People love Samsung Galaxy A5x series mid-range phones. In fact, each of its members has been the best-selling model for the Korean company for several years in a row. And of course, the newest of this family is the Galaxy A54. So it's no surprise that this phone seems to be attracting a lot of fans as well. Based on our statistics, we can confirm that this is the mid-range phone that you are most interested in and have been since it was launched.
So what makes the Galaxy A54 so enticing? Definitely, the brand of this phone makes the buyer attracted to this phone. Maybe you can have a Samsung phone by buying this phone without spending your money on the Samsung S series phone. In 2023, the company has harmonized its designs more than ever before for its range of slab-style smartphones, so this phone is considered a Samsung phone for everyone.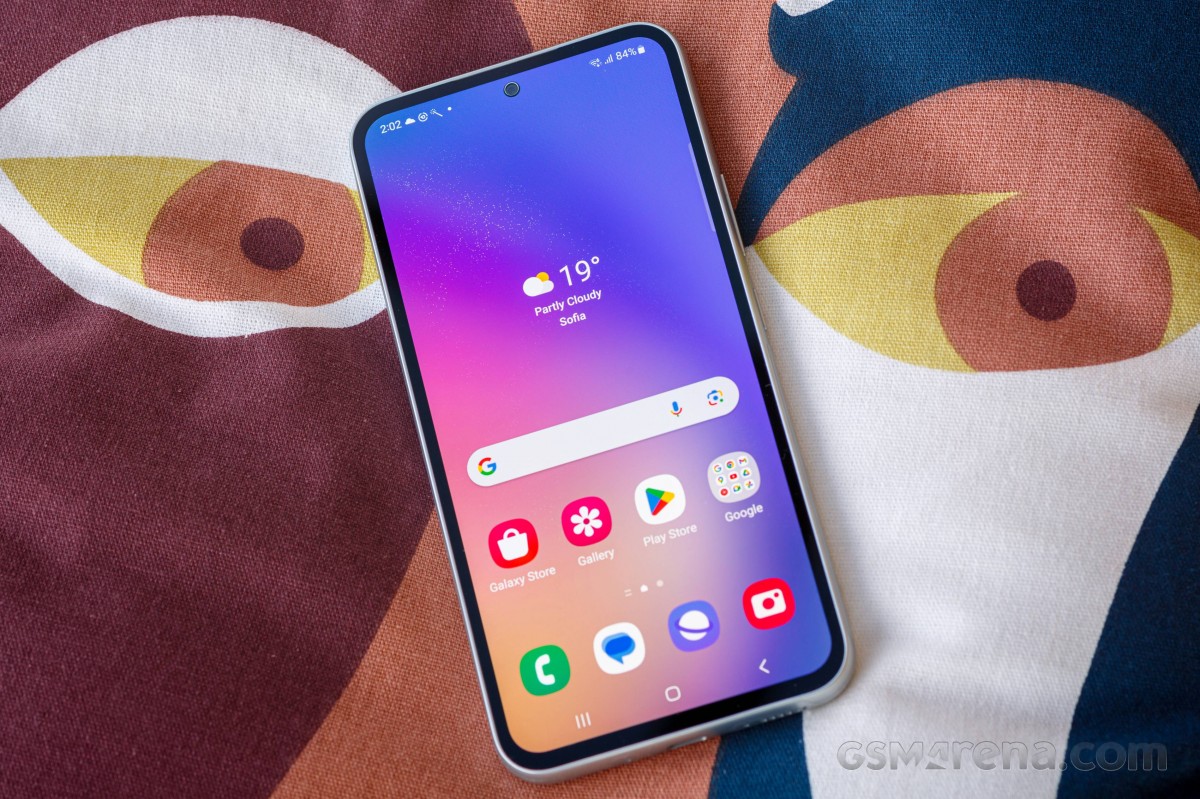 But that can't be the whole story, there's certainly magic here, a rare set of features that most people would be willing to buy at the price of this phone. Well, that's what we explore using the Galaxy A54 as our one and only smartphone for a long time. This long-term review describes our next impressions.
 Does it have what it takes to become the mid-range smartphone of the year? Is it above the competition in all respects? Is it so good that you just have to pick one up without even thinking about it? Well, join us over the next few pages as we explain and tell you what you're actually getting in terms of user experience if you choose this phone.
Read more: Poco C65/Redmi 13C phone review, price and specifications
Designing
The Galaxy A54 is definitely a Samsung 2023. This phone is unmistakably Samsung in terms of design, and that can be seen as a good feature as well as a bad feature. For clarity, we are referring to the back of the phone here. You'd definitely mistake this phone for something like the S23+ from a distance, unless you're well-versed in the positioning of the LED flash across Samsung's lineup.
Obviously, this is a deliberate choice on the part of the Korean company. While Apple and Google keep a third camera sensor for their more expensive devices, creating a strong artificial distinction, Samsung puts three camera circles on the A54, three on the S23+, three on almost every device regardless of price. presents. They are almost in similar situations.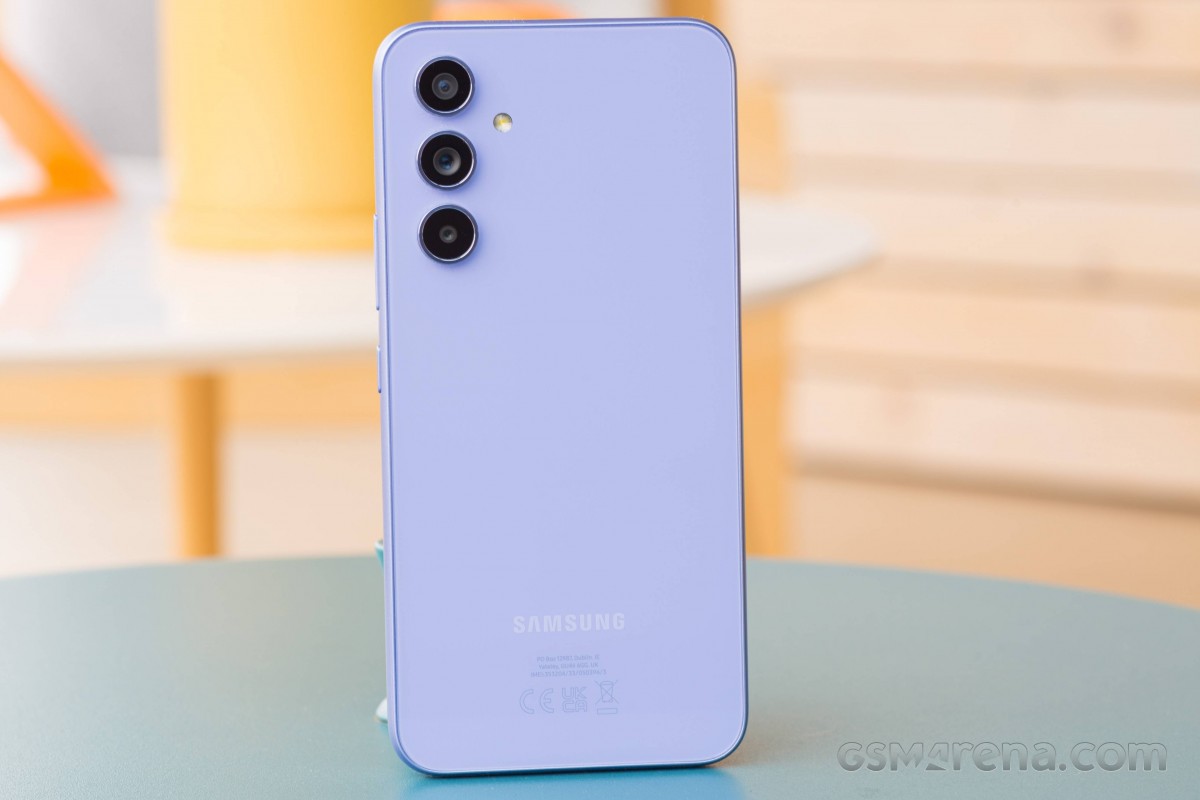 That said, we prefer separate camera circles to some of the monstrosities of an island that pop out of China from time to time. You, of course, may disagree, and that's fine – you don't look at the back of your phone much, do you?
On the front of the phone, things are different and the concert is a high pose. The bottom frame is so much bigger than the others that it shows the mid-range of this phone well. In a cheap, mid-range way. This feature certainly doesn't trick anyone into thinking it's more expensive than it is, and before you say that's inevitable at these prices – it's not. Ask nothing, ask Poco – frames that look symmetrical (even if they technically aren't) are definitely achievable even in the middle of the price range.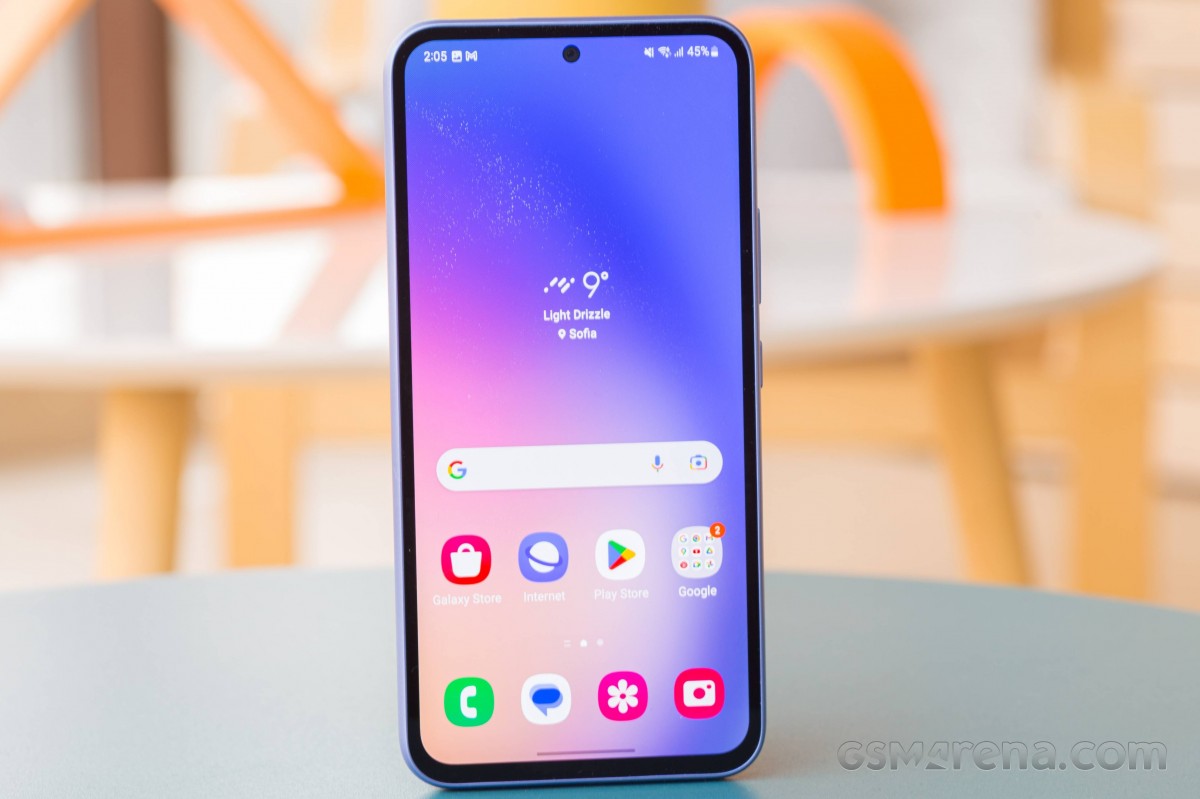 So, again, not having them is a choice on Samsung's part, which leaves us a little confused. This phone could be more expensive from the back, but it actually looks cheaper from the front. This is high level bipolar.
However, this phone is slippery. The glass back on our white model doesn't seem to show fingerprints at all, which is great – but as you might know, that's always at the cost of being more slippery than before. The plastic frame doesn't help either. While it's not as slippery as a matte metal case (it's a few things, it's still among the most slippery plastic cases we've used recently).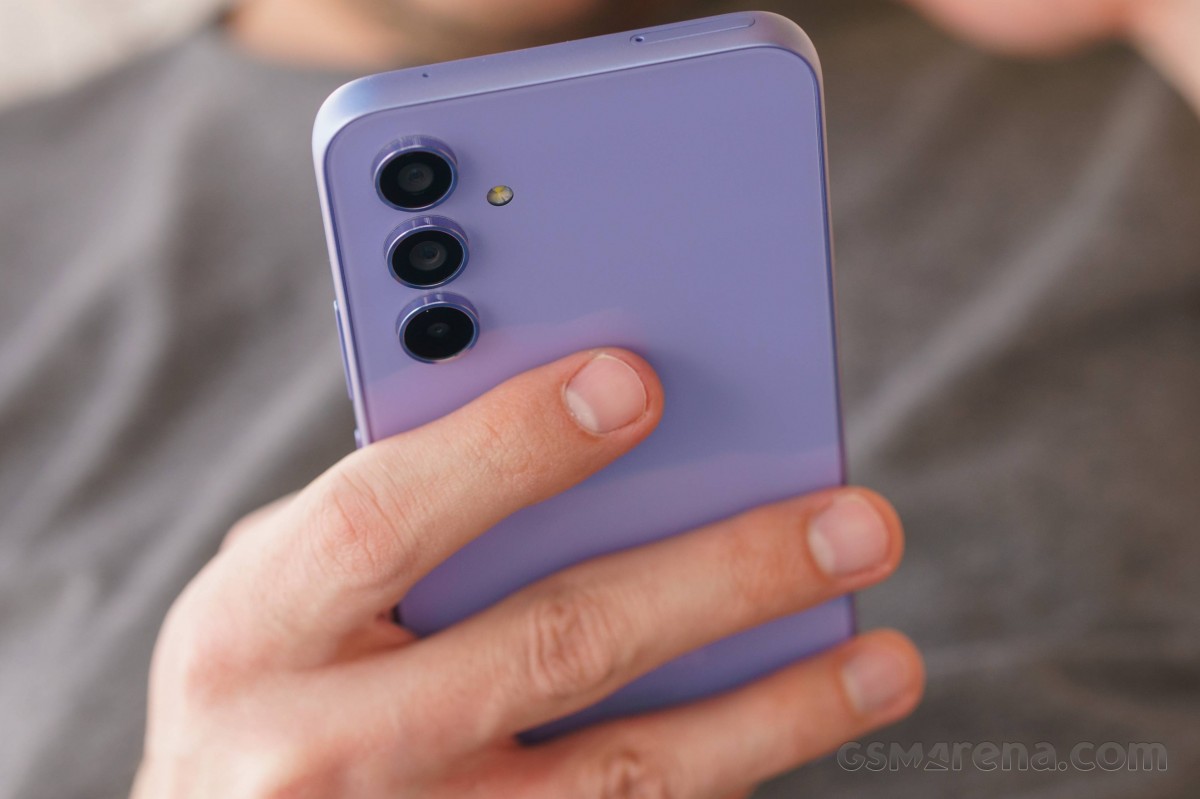 Handling is good for people with large hands, only good for those with medium hands, and terrible for those with small hands. The width of this phone is large. If you have large hands, you can experience good handling, but it definitely feels bigger than most of the regular devices on the market. We can say that they have an average hand with a good hand league.
The weight of the phone, like its width, can be a concern. It's actually not a lot, but we suppose the extra 5 grams might have made the phone's handling a bit worrisome (like an extra 2mm).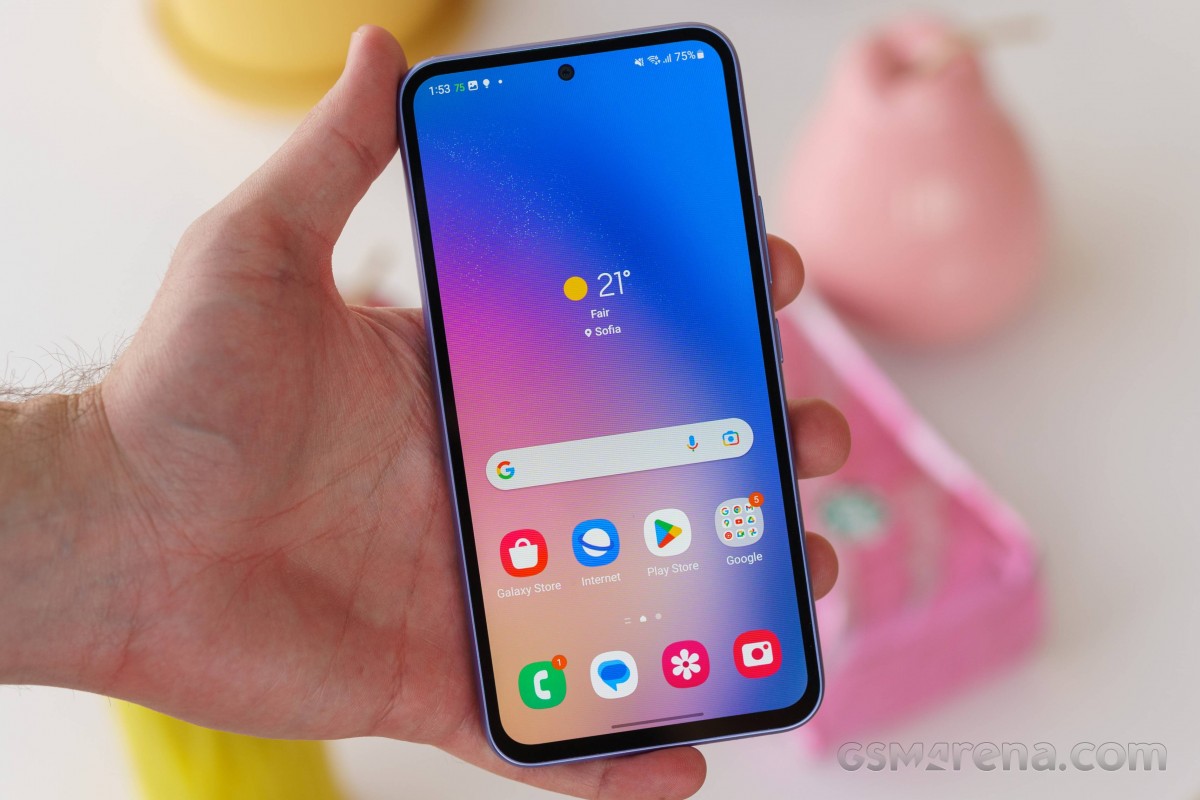 The box is almost empty – not exactly Sony-like, but unsurprisingly Samsung-like (hello, Apple). Inside the box, you get the phone and the cable. This is it. No frame, no charger, nothing else. Can you buy them separately? Of course. Do you have to? That's a different conversation we don't want to get into again. But we will point out that the Chinese competitors of this phone generally pack both a charger and a case in the box. Somehow it can be done in China, but not in Korea.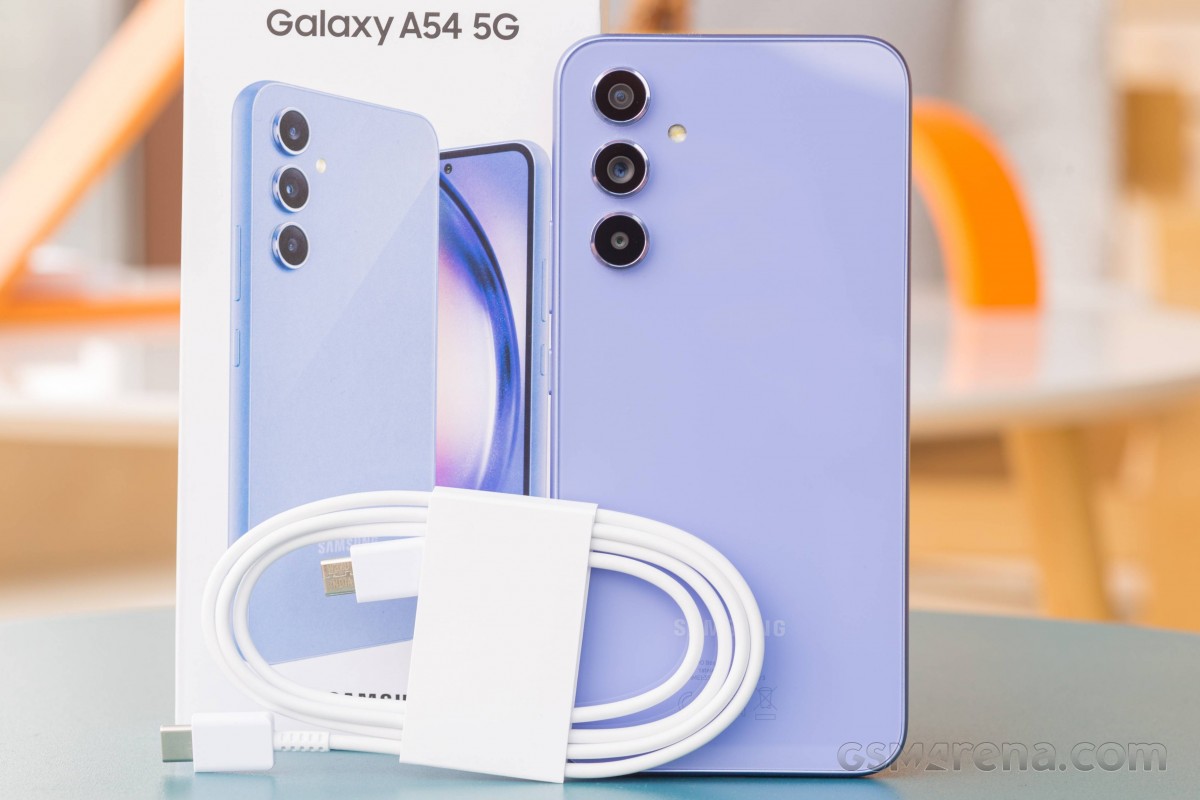 Turning to the design, the feeling is very very, general and generally safe Samsung. We're willing to bet that you'd be hard-pressed to find anyone who has complained about this phone in any way. So, it works, but it also has the real potential to feel incredibly boring to a lot of people. It will be a match made in Seoul (though to be honest more likely Vietnam or India). But if you want to be amazed every time you pick up your phone – simply put, look elsewhere.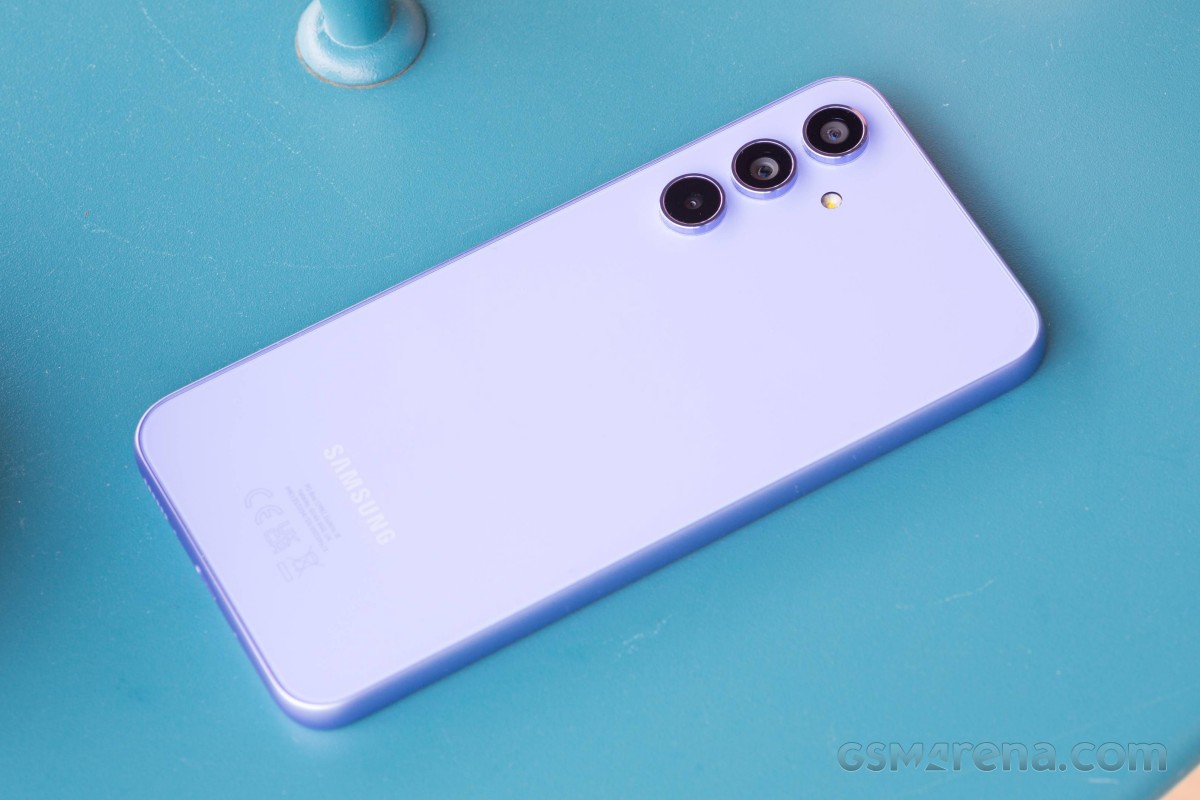 It's one of those things that "get out of your way and let you live your life". You won't notice it, you won't admire it, you won't even be able to describe it if you have to (now that's us), you won't remember it, it won't make any impression – but you won't regret it either. And this is also important.
Speakers
The Galaxy A54's speakers are dual which is great and they work. They're definitely nowhere near the highest quality speakerphones we've tested, in fact they're pretty average (or, as the guys say, mediocre ). But they're there and they get the job done – just not in noisy places. There you have to hold the phone close to your ear to hear sounds even at maximum volume.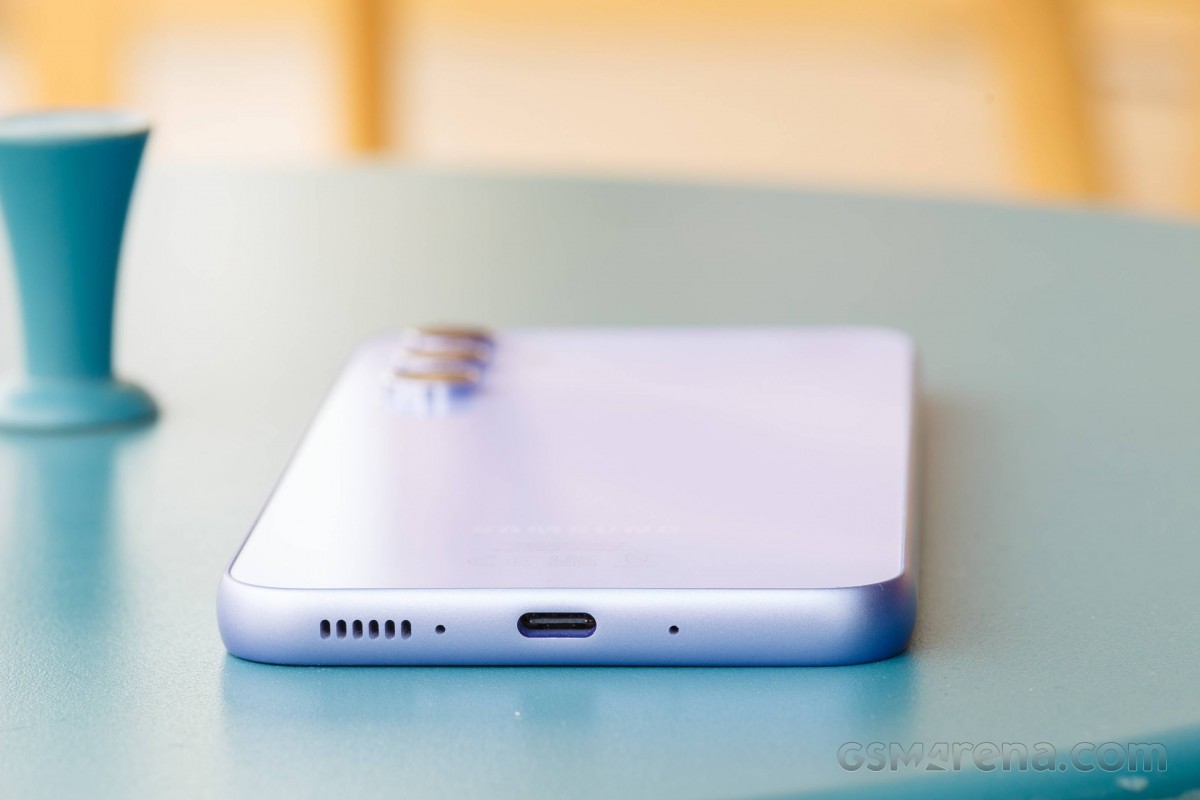 The fact that the top speaker only has one through-the-phone opening doesn't help either. Xiaomi and its sub-brands have recently done this trick, where there is a separate second opening for that speaker at the top of the case, and so the sound simply sounds fuller, richer and most importantly louder. So, the Poco F5's speakers are actually louder than these, but not by much. Just a little, though, unless you have these side by side for comparison, the A54 is unlikely to disappoint you. They won't wow you in any way, in any way (and that seems to be the trend with this phone, at least so far).
Vibration motor
Galaxy A54 has a vibration motor and it is good. It doesn't wow you regularly (or ever, really), but it's there and it gets the job done. For what it's worth, it's a lot better than the Poco F5 model we recently reviewed in the long run, but that's too little to clear.
They're similar in the sense you get of being 2D (the best ones are more like "3D", for lack of a better explanation), but the Galaxy A54 feels more spacious. Not a lot of it, just a little more. If you've never used a phone with an awesome vibration engine, you're probably wondering what we're talking about here. But if you have, don't expect this one to be anywhere near the same league.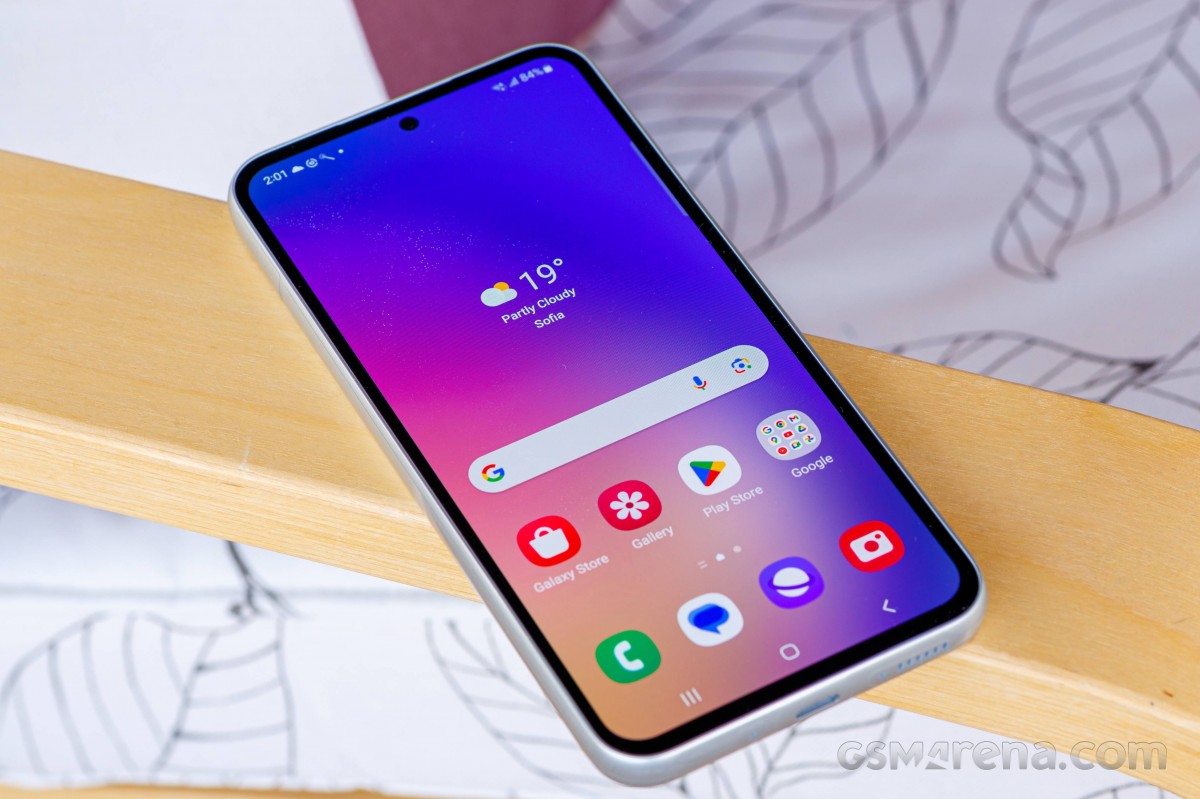 However, we like how customizable the vibrations are – you get separate vibration intensity sliders for calls, notifications, system items, and media, which is more than most skins offer. Unfortunately, given how weak this engine is, we had to max them all out, but with better hardware, the customization feature would be very useful. And the same goes for the fact that you can enable or disable vibrations for touch interactions, dialing, charging, gesture navigation and camera feedback. We still wish there were more vibrations in One UI, but it's definitely not the skin that lacks them the most.
The "vibrate sound for incoming calls" setting seems like Samsung admitting how weak the engine itself is, and giving you a band for a problem it's caused itself – it's really funny. So the engine is weak enough that you probably won't feel it much –  hey, here's a setup that plays a vibrating sound through the speakers to help you out. 
Colors
The Galaxy A54's screen is probably the best thing about it, and by quite a bit. Battery life  is the next best thing  , but we'll get to that in due course. For now, let's applaud Samsung for not skimping on display quality here. The panel you get on the Galaxy A54 may not be top notch, but it's excellent and incredibly detailed.
Samsung also has the best color settings on the market in our opinion. You get Natural, which is perfectly tuned to the sRGB color space, and Vivid, which is nicely tuned to DCI-P3, but it gets even better if you go for the warmest tone. You can also play with separate red, green and blue levels if you want. These are all the settings you need, and therefore all the settings you get. No complicated mess here (hear that Xiaomi?).
Lighting
Now, when it comes to brightness, the Galaxy A54 plays at the high end in that mid-range "around 1000 nits" field. It's not a record breaker by any means, even for the price, but it's at least for most people to consider a panel that's visible in all lighting conditions, even on a bright sunny day. It won't be as easy to read in such conditions as the ones that go higher, but it will  be  , and at this price point, it's important to note that. It's also 150 nits brighter than its predecessor, which is noticeable and will definitely be noticeable side-by-side.
At the low end of the brightness scale, the Galaxy A54, like most smartphones these days, doesn't really dim enough to make reading a book comfortable, especially if you're viewing a lot of things with a white background in dark, dark environments. Fortunately, though, that doesn't matter because unlike other companies, Samsung has implemented an Extra dim feature that does exactly what the name suggests. It has its own slider and makes the screen less than its lowest brightness setting.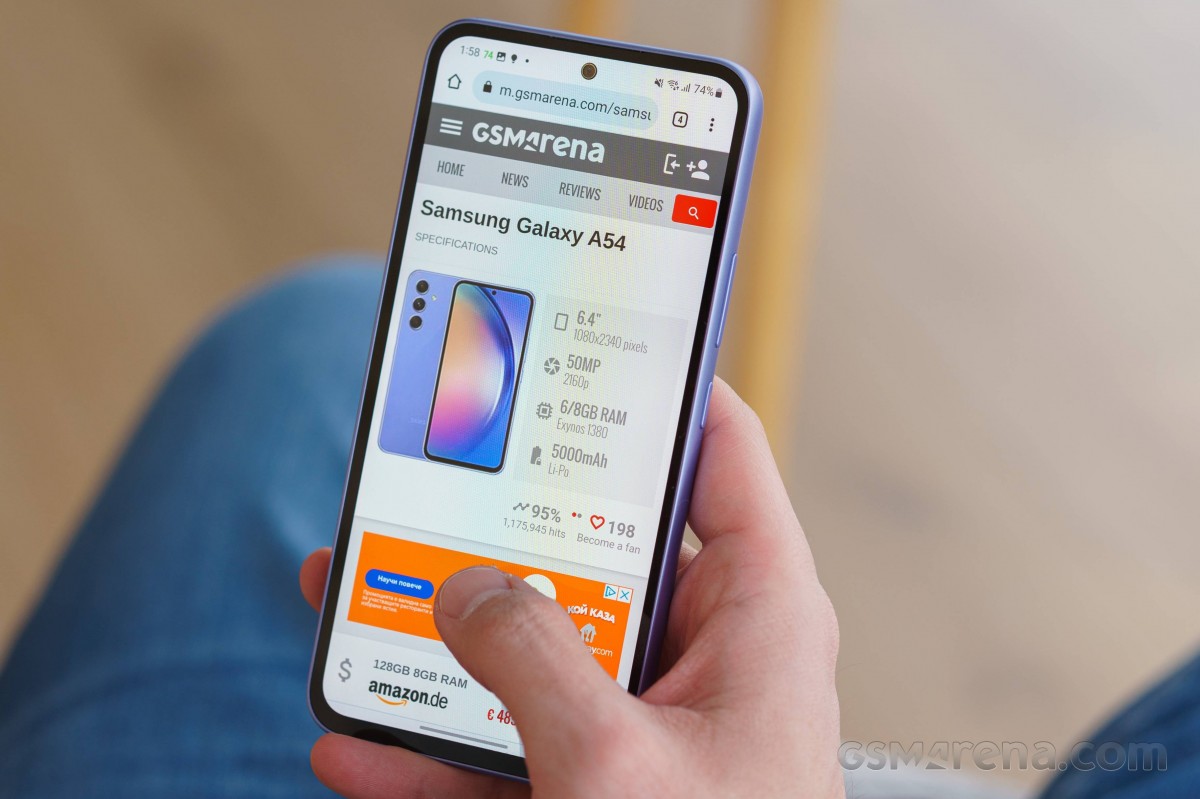 We don't know why Google had to come up with this solution for the obvious fact that the screen has been dimming lately, but we're glad it did. We still think Extra dim should be integrated with the brightness slider and not as a completely separate feature, but it's nice to have.
The auto-brightness algorithm on the Galaxy A54 is excellent. It's not the best we've tested recently, but it's definitely well above average. Manual adjustment was still required for the first two weeks of our use, but after that we barely touched the brightness slider, and we think that's how it should be. The algorithm is better than many we've seen on much more expensive phones, so while we're always striving for perfection, given the market's current state of affairs, we were very pleased with it.
refresh rate
The Galaxy A54 has a maximum refresh rate of 120Hz and you should definitely use the Adaptive setting in Motion smoothness, which is what gets it there. That being said, don't expect this 120Hz to feel like other 120Hz refresh rate modes on other phones. There's so much clutter and lag throughout the UI, and the chipset seems to struggle with even basic scrolling in some apps, that it's not going to be a smooth experience.
Still, it's smoother  than if you chose standard mode, so there's that. We'll talk more about the smoothness (or lack thereof) in the dedicated section of this review, don't worry. As always, we just used the high refresh rate setting because the battery life was great anyway and there's no other reason to go lower.
The screen is always on
One UI's always-on display is highly customizable in terms of how it appears – with a tap, always, on a schedule, or just for new notifications. In fact, it may be the most customizable in the field. Less is more when it comes to what's displayed on it – you get music playback information, notification icons and a few clock styles to choose from, as well as the option to use stickers, AR emoticons, Bitmoji or an image. Gallery, but that's it.
There are more comprehensive options in other skins, but if you haven't used one of them, we don't think you're missing out. The fact that AOD can use an auto-brightness algorithm to adapt itself to ambient light levels is great, although we're not entirely sure why anyone would turn this off (it's on by default, as it should be). After all, if you want, you can – "If you want, you can" could very well be the motto of One UI.
The blue light filter is called the Eye comfort shield, and it can automatically adjust the display's colors based on the time of day – with slight adjustments during the day and much warmer colors at night. It's a simple trick, but otherwise very simple, with a color temperature slider and the ability to program it to turn on at dusk and off at sunrise or at a custom interval. It definitely gets the job done, but maybe it could be a little more customizable, as customization is a big thing in One UI.
biometric
The Galaxy A54 has an in-display fingerprint scanner. Most of its competitors have peripheral sensors, and Samsung's S-series devices have recently had the best under-display sensors built. So this one must be amazing too?
It is not like the flagship ultrasonic line. It's the optics that aren't a problem per se – we've managed some pretty good optical scanners over the past few years. They are not quite at the ultrasonic level, but they can come very close.
This is not one of them. It's not just great, or outstanding, or amazing. It works, but it's slower than most sensors we've used in the last year or so, and the accuracy, while not bad, is nowhere near top notch. We hit the first try about 90-92% of the time, which sounds like a lot but it's not. 95% would be great, 97-99% is great in our book, especially for in-display sensors, and while there are ultrasonic sensors on the S series, this one isn't.
There's nothing wrong with that, but it's pretty clear that this is a cheaper part that wasn't given much priority when building the bill of materials for this phone. It's clear that Samsung thought the Galaxy A54 should have an in-display sensor so that it might feel more superior to its competitors with peripheral sensors, but then the company didn't go out and make a great sensor and spend what it could. commented No more than a few dollars per unit.
Look, you can't max out all the parts on any mid-range device, because then what you end up with isn't mid-range anymore. But the fingerprint scanner is something you interact with dozens, if not hundreds, of times every day, and regardless, it doesn't make the entire user experience feel like you're getting more value than you paid for. In some ways, it cheapens it to a lower point. Of course, if you use fingerprint authentication.
If not, you'll be more interested to know that there is also face unlock, and it works, and it's not too fast either. It's a lot faster than using a fingerprint sensor, but we're not sure the 15-20% increase in unlock time is worth the security trade-off since it's a camera-only factory-type thing. There's a setting to not unlock if your eyes are closed, which is great and we've tested and it works as intended. That being said, don't forget that such a basic face unlock is shown to be easily tricked by pictures or videos of the owner of the phone.
Function
The Galaxy A54 is the laziest and slowest phone we've reviewed in a long time. It actually reminds us of a non-professional Redmi Note from a few years ago. Its chipset doesn't seem to have been chosen for reasons related to performance, smoothness or the ability to handle a lot of things on a day-to-day basis.
Instead, Samsung seems to know that it's cheaper to buy these off its own shelves than from Qualcomm or MediaTek, which is fine in principle, but the chip is a lot better than phones that cost half the price of the Galaxy A54. At such a price, we praise it. Given the A54's price, this is its biggest weakness, and by a very narrow margin.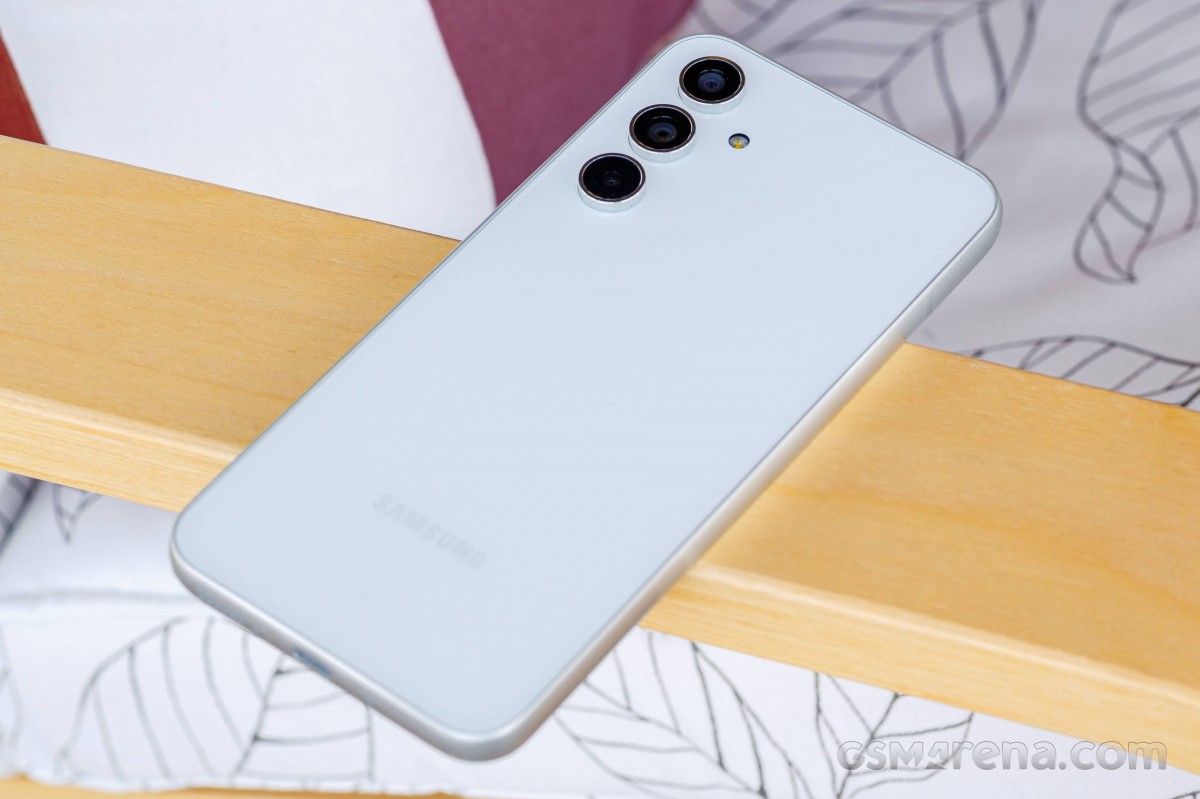 It's not unusable, but it's so much slower and shakier than the Poco F5, which we recently reviewed at length, that it's hard to use two similarly priced devices. It works very differently in this context. Microscooters appear at the most random times, and if you try to multitask intensively, you'll definitely notice how hard it is for the Exynos 1380.
Again, this chip is commendable in a device half the price of the Galaxy A54. But in this range, it's not good enough, especially in late 2023, and especially considering that this is Samsung's best-selling model.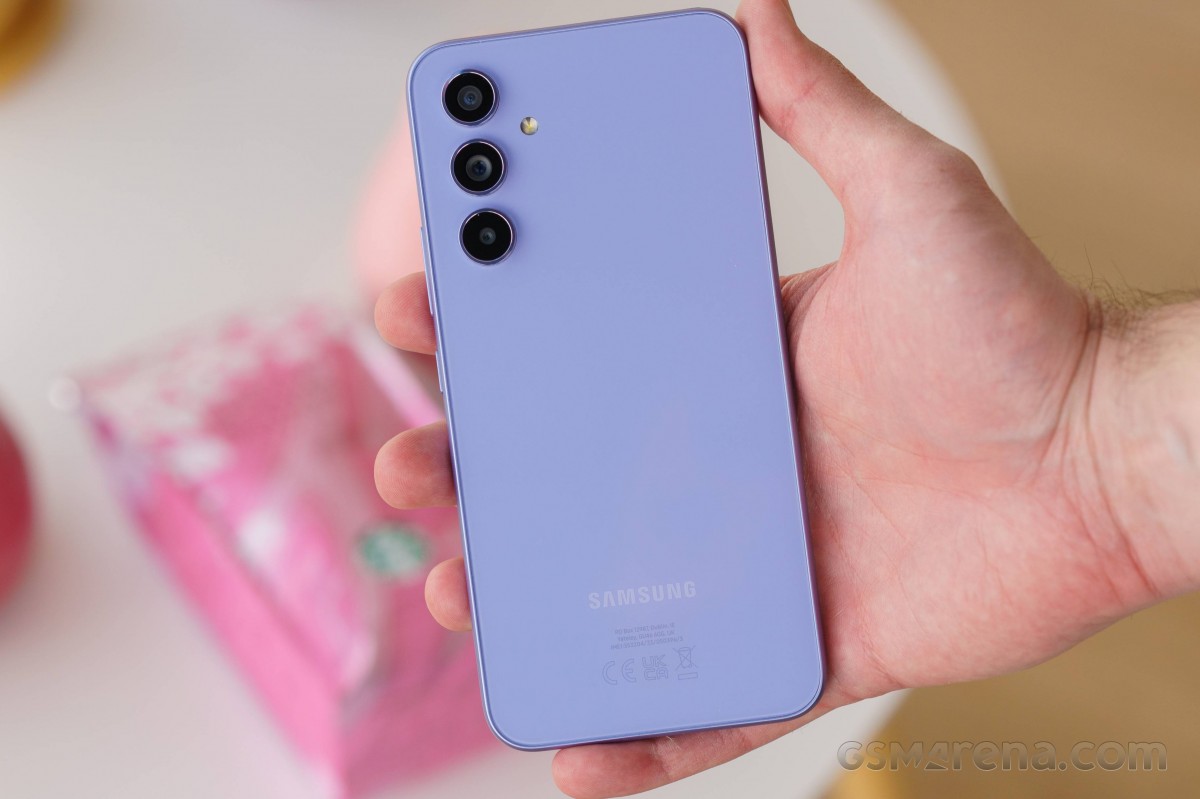 That said, keep in mind that with the insane number of mid-range and entry-level phones out there, we only get to review a handful of them for any length of time each year, so we're definitely not saying this one is the least flawed. Of all those on the market. Just from everything we tried in the long run.
With that very important caveat in mind, perhaps a comparison with the Poco F5 is in order, as the two are quite close in price. And in terms of performance and smoothness, no competition, the Poco wins by a mile. That being said, performance and smoothness aren't everything, so in concluding this review, we're going to compare things a little deeper.
Battery life, charging
Battery life on the Galaxy A54 has been fantastic. That's the best battery life we've gotten from any phone we've reviewed recently, and while it's not much better than many of the phones we've rated "excellent," the difference It is still quite evident day by day. life so maybe this is one of the features of this chipset.
Based on our usage described below, we never needed a mid-day charge during our time with the A54. not once And when we finished our 12- to 16-hour day off the charger, we were generally left with a generous battery capacity still in the tank. Based on this, we can say that the maximum time we can theoretically achieve with the screen will be at least 8 hours, and 9 hours seems very achievable.
Now, the fact that the battery lasts so long mitigates the lack of fast charging to some extent. Sure, Samsung calls itself "fast," but in this day and age, given what the A54's competitors are capable of, that's more laughable than accurate. The A54 isn't terribly slow, mind you, just over an hour from zero to full, but it's definitely not winning any awards. You'll also need to get your own charger, as Samsung doesn't provide one in the box.
Our usage mainly consisted of a Wi-Fi 6 connection, about an hour or so of 5G, Bluetooth and always-on location, about an hour or two of listening to music or podcasts through the TWS headphones, about an hour of phone calls also through the headphones. It is TWS. And about 30 minutes of GPS navigation through Waze. The usual caveats apply: if your usage is much heavier than ours, spending more time on mobile data, and especially in hotspot areas, then your screen time numbers will definitely be lower than ours.
One UI 5.1, update
At the time of writing, the Galaxy A54 is about to receive the Android 14-based One UI 6 update, but  it's not quite there yet. Depending on where you are in the world, this may have changed in the meantime, and if you buy an A54 now, you may have an update waiting for you when you take the phone out of the box. And even if it doesn't happen right away, it will undoubtedly happen very soon – Samsung has been pretty good lately at delivering big Android updates to many of its devices in a very short period of time, once it's been great. Speak up – and the ball is definitely already in motion.
One UI 6 isn't that different from One UI 5.x, which itself wasn't that different from its predecessor. At this point, One UI is pretty much a known quantity in the mobile world, and that's probably a good thing for most casual users who might not enjoy big UI changes from year to year. On the other hand, if you're more of an enthusiast and have had Samsung devices in the recent past, you might find it a little boring.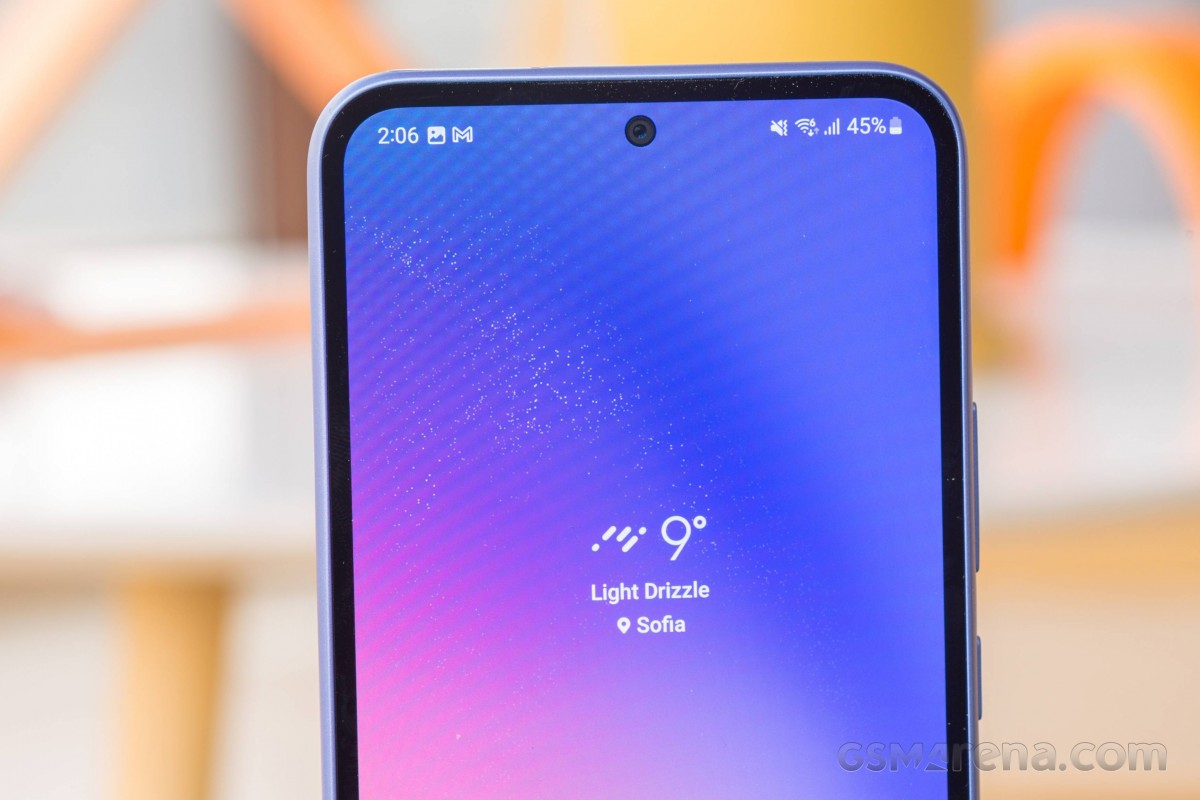 One thing that has definitely changed in the last year or two is the quality control for updates. During our long time with the Galaxy A54, we encountered absolutely no glitches. zero none And it's something that many of Samsung's competitors could definitely learn from (we're thinking primarily of Xiaomi and Poco and Redmi, but in truth, even Google sometimes spoils things with an update or two does – the difference is that with Google everything is usually done with the next monthly update, while in Xiaomiland it's sometimes several months and it's very clear, unfortunately there are still glaring bugs).
We honestly can't remember the last time a Samsung update introduced any bugs, and that's commendable, especially since the A54 isn't a top-of-the-line device, and for many companies it seems logical – the higher up. Due to the price, more care is taken with such things, while mid-range and especially low-end phones are usually left alone.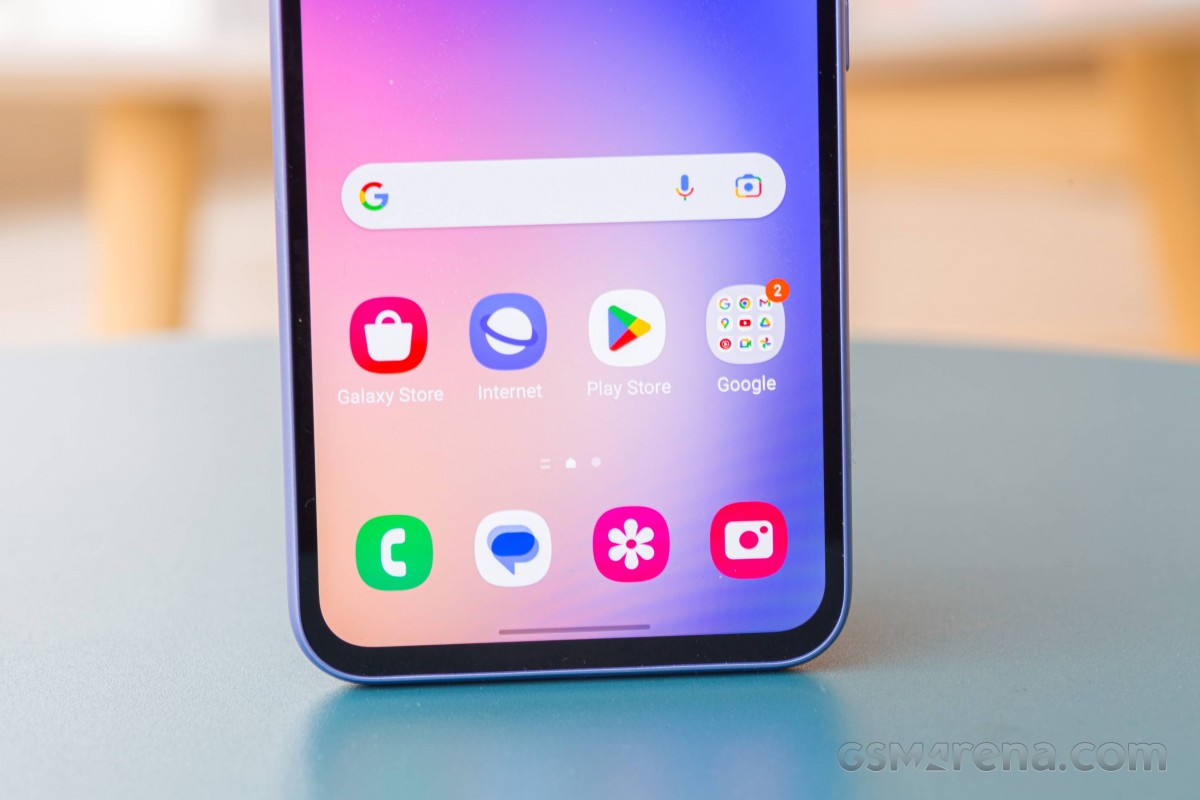 This isn't a good strategy in our book, as many people will buy a cheaper model first and then, if they're satisfied, eventually move on to something more expensive from the same brand – many of our friends have done this with Samsung phones.
But if the phone is cheap, they'll just switch to another manufacturer — or in some cases, decide to buy an iPhone based on an "all Android phone" experience. Samsung seems to understand this well, at least when it comes to updates and bugs – it's less concerned with the overall performance and smoothness of its mid-rangers, but we've already talked about that in the previous part of this review.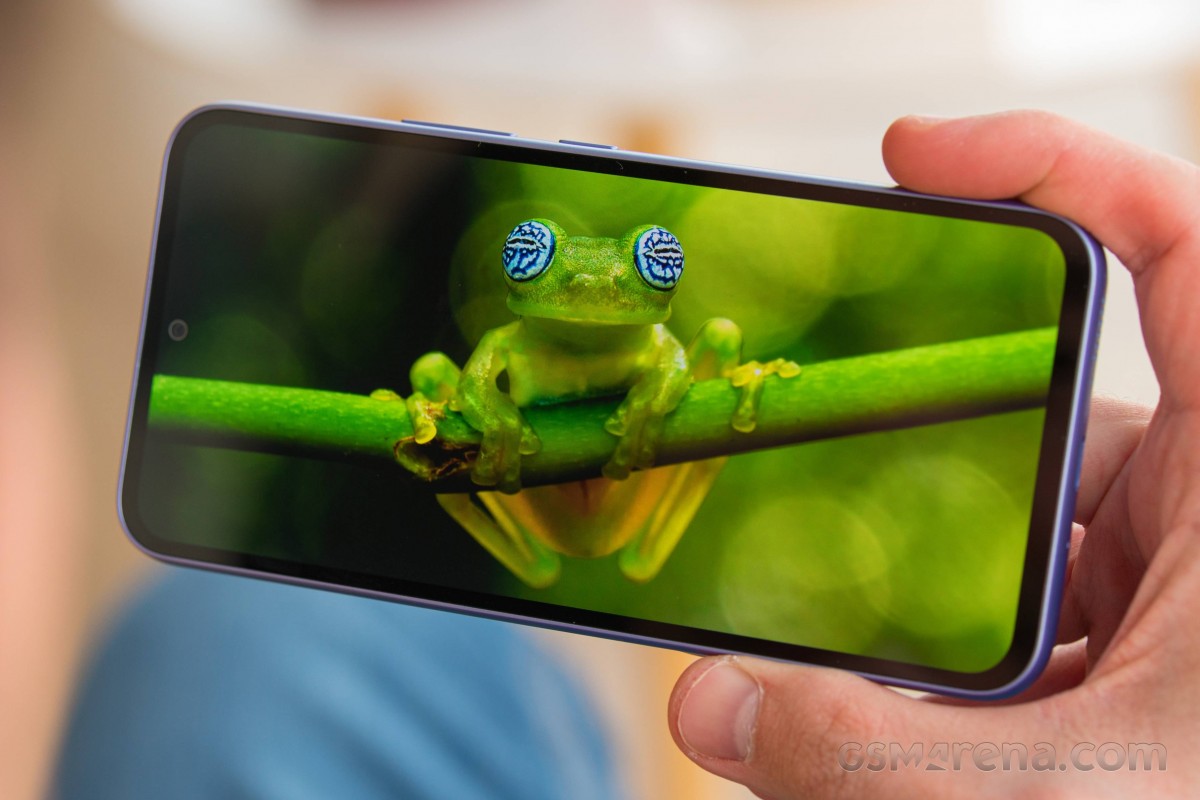 As for updates, Samsung actually releases monthly security patches on a monthly basis, which is still not something that happens across the entire mobile industry. Not only that, but they're usually quite timely, and may even arrive at different points before Google sends the same update to its Pixels. That's to be commended, as is generally the case with the speedy rollout of a major Android update, especially considering how many more devices Samsung updates compared to Google.
At the time of writing, our Galaxy A54 was on the October security patch level, which is perfectly acceptable given that we received a security update every month while using it – and in the right month, no less (so, Here's the September update.End of October "Insults". If One UI 6 hadn't arrived, we're sure we'd have received the November security patch in the first half of November as well.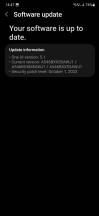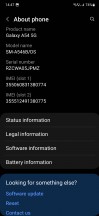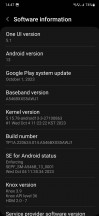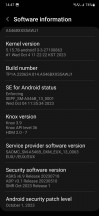 Current software at time of writing
One UI still has its quirks, but after so long in the market, we imagine most people are used to having two separate app stores, for example – not that it makes sense from a user experience point of view. View, of course, but Samsung wants to play the ecosystem game, and this is one way to do it, although it may be annoying for end users. It can't get rid of the Play Store since then, but it can't use Google apps, but it also wants its own duplicate built-in apps that are the default, so you're not tied to its ecosystem.
We really wonder how well this has worked – how many people actually use Samsung's default apps rather than Google's existing apps. The first option means you have a significant incentive to switch to another Samsung phone, while the second option gives you the freedom to switch to any other Android device without a problem.
Of course, Samsung really wants you to buy their device, and that's understandable, but do people actually do it? We can't tell you for sure, our guess is that the more tech-savvy will use Google's offerings precisely for the freedom of change it entails (and let's not forget that these apps are often actually better), in Whereas normal people might just go with the defaults and never think about it.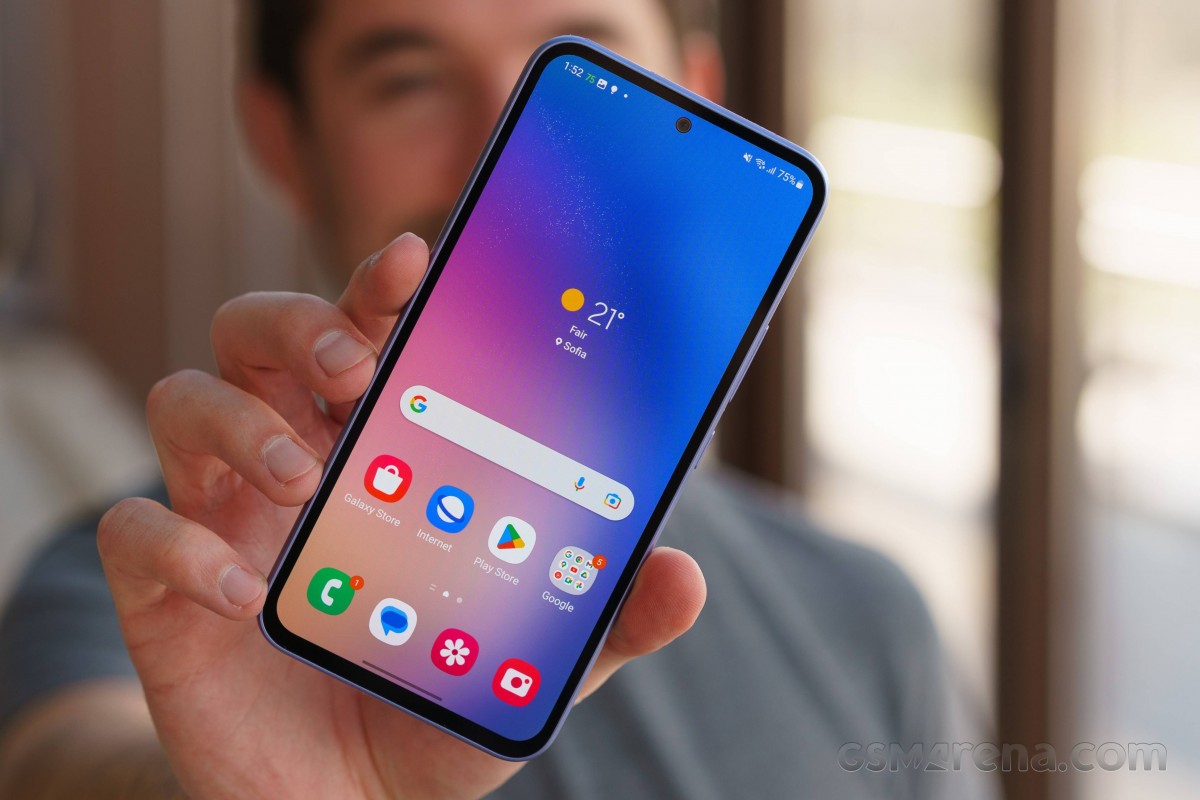 After that, Samsung has been working more with Google in recent times – the Messages app is an odd mix of Google Messages and the Samsung app of the same name, and thankfully the two no longer come pre-installed. You also get RCS support, which is sure to be appreciated by up to a dozen people around the world – and the rest are probably fine using WhatsApp or Telegram or Signal or Facebook Messenger or whatever.
However, in the US, you're kind of stuck with the Messages app because iPhone owners can't shake their addiction to the iMessage bubble, so it's nice that RCS gives them a decent set of features on top of SMS for chatting. They're meeting people with other Android phones (and next year Apple will support RCS too, so while the green bubbles won't go away, there will certainly be better feature interoperability).
As always, Samsung's native apps are all updated through their own app store, and sometimes other non-native apps are updated a bit faster this way, but most are updated through the Play Store. Obviously, it's not an ideal situation, but most of you are probably used to it by now, so we won't whine about it any further.
The settings menu is as extensive as ever, with hundreds of things to tinker with, so if you enjoy doing that, you can spend hours going through each option and customizing it to your heart's content. Customization has always been a huge issue with One UI, and that hasn't changed at all. Of course, you don't have to do that if you don't want to, and just stick to all the defaults.
However, you'll notice that the phone doesn't display any notification content on the lock screen by default, something we've been encouraged by for years with One UI, and yet still has to allow settings and more. of the icon to show you a program. To visualize this, imagine One UI treating the lock screen like most other always-on display skins – you get an icon and that's it. It's not necessarily a better or worse way of doing things (it does increase privacy, after all), it's just different for being different.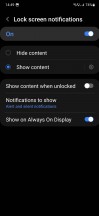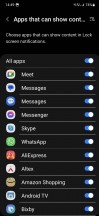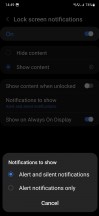 Lock screen notification settings
Speaking of which, by default long-pressing the power button still launches Bixby instead of presenting the power menu. This can also be easily fixed by going into the settings.
For us these were the only two defaults that definitely needed changing, but for you things may be different, so after you first boot your phone, spend at least half an hour fiddling with things like this (or definitely mostly if tinkering is your hobby).
Launcher, dark mode
The One UI launcher has been pretty much unchanged for years, which is great if you're coming from an older Samsung. However, that means it has the same quirks about it – like the horizontally scrolling app drawer, and perhaps most importantly, the fact that said app drawer is, by default, sorted alphabetically. has not been Point one: folders in the app drawer. Why? We can't tell you, we think all these "features" make it harder to find apps in the drawer, but maybe it makes sense to you.
Anyway, if that's not the case, you can at least switch to alphabetical sorting, although there's nothing you can do about navigation and folders (you can try removing all apps from each one, but that might also fix it. Time consuming and annoying – if so, we don't judge you).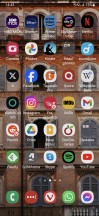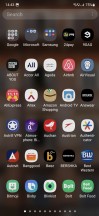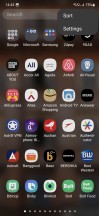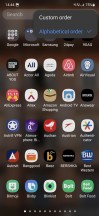 Interestingly, Samsung's version of Google's Discover feed is gone. Last time we saw it, it was called Samsung Free, and in our opinion it was a lesser alternative to the Google Discover feed, but it was the default. Now, it is simply gone, and we can only say: Done! This leaves the aforementioned Google Discover feed as the only option for your "-1" page – the one on the far left of the homepage. You can also, in the spirit of customization, turn it off if you don't like it.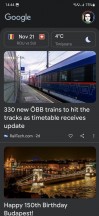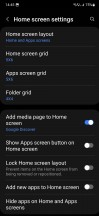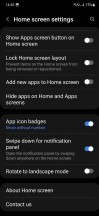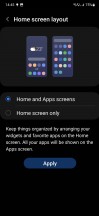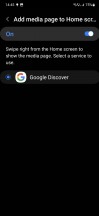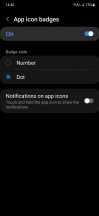 Google Discover feed and launcher settings
The recent apps screen scrolls horizontally, as most do these days, and this one has a neat feature we like to use – you get four "suggested apps" at the bottom. The software tries to predict exactly where you want to go, and it does so with incredible accuracy, at least for us. 85% of the time, the app we wanted to switch to was one of the four apps we thought were commendable.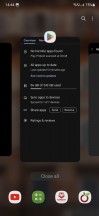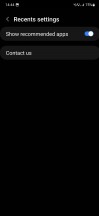 There is a dark mode and it is completely empty. There aren't any fancy customization options here, oddly enough, as there are plenty of them for many other features. You can turn it on and off, schedule it from dusk to dawn or with custom clocks, and if you go to the wallpaper and style section of the settings, you can also turn on "dim wallpaper when dark mode is on". This is it.
Of course it works as intended, but as we said before – some additional customization options would definitely be appreciated.
Gestures
Gesture navigation is of course present on the Galaxy A54, and generally works well, with one exception that we'll detail below. We like the fact that you can hide the white tablet bar at the bottom, a "motion gesture" as it's called, and still swipe up on the bottom of the screen to quickly switch apps. In some other recent skins, you can no longer do this, which is a shame.
You can also customize motion sensitivity, which we think is a welcome feature. You can choose a higher setting if you're using a case and find the back movement difficult, or a lower setting if the movement is random.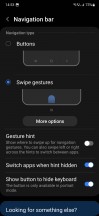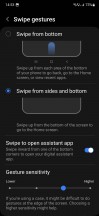 While we didn't encounter any bugs per se during our time with the A54, there is a certain amount of "performance" that baffles us. We'd preface it by saying that this behavior was common across all Samsung devices a few years ago, but now none of the flagships (be it the S series or the foldable) have it anymore, which makes us think it's somehow the case. It has to do with how well the chipset can perform. And since the A54 SoC is anything but a great performer, this issue unfortunately reared its ugly head here.
We're talking about how, when you swipe up from the bottom, a lot of times, the phone first interprets the gesture as scrolling, but then, about a second later, it realizes that you're you really are It wanted to go home so what happens within a second is it scrolls through the app you're currently in, then it goes home. Needless to say, when you return to said app, you won't be "on top of the page" thanks to the navigation we just described.
This may not bother you at all, but it shouldn't happen. Our unconfirmed theory, based on how other flagship devices don't have this feature, is that it takes a lot of processing power just to interpret the gesture on Samsung's phones, which aren't very talented in the performance category, and it happens. It's unfortunate, and if true, it means that One UI processes gestures differently than any other skin, because we've never,  ever  had this problem on any non-Samsung smartphone. Hopefully the company fixes this issue soon, because it's not a great user experience to say the least.
Camera
The Galaxy A54 has three rear cameras, one of which is a macro camera, which as usual we'll ignore for our long-term review. That said, if you want examples of that, our regular review will happily provide them for you. Suffice it to say, you won't be surprised at all.
The other two are actually useful cameras, so let's dive into what they can achieve. The main sensor here is a new 50-megapixel sensor, bringing the pixel to 12.5 megapixels, while the ultra-wide is 12 megapixels. Before we even see the samples, can we just say how happy we are to see a 12-megapixel camera at this price, rather than an ultra-wide 8-megapixel one?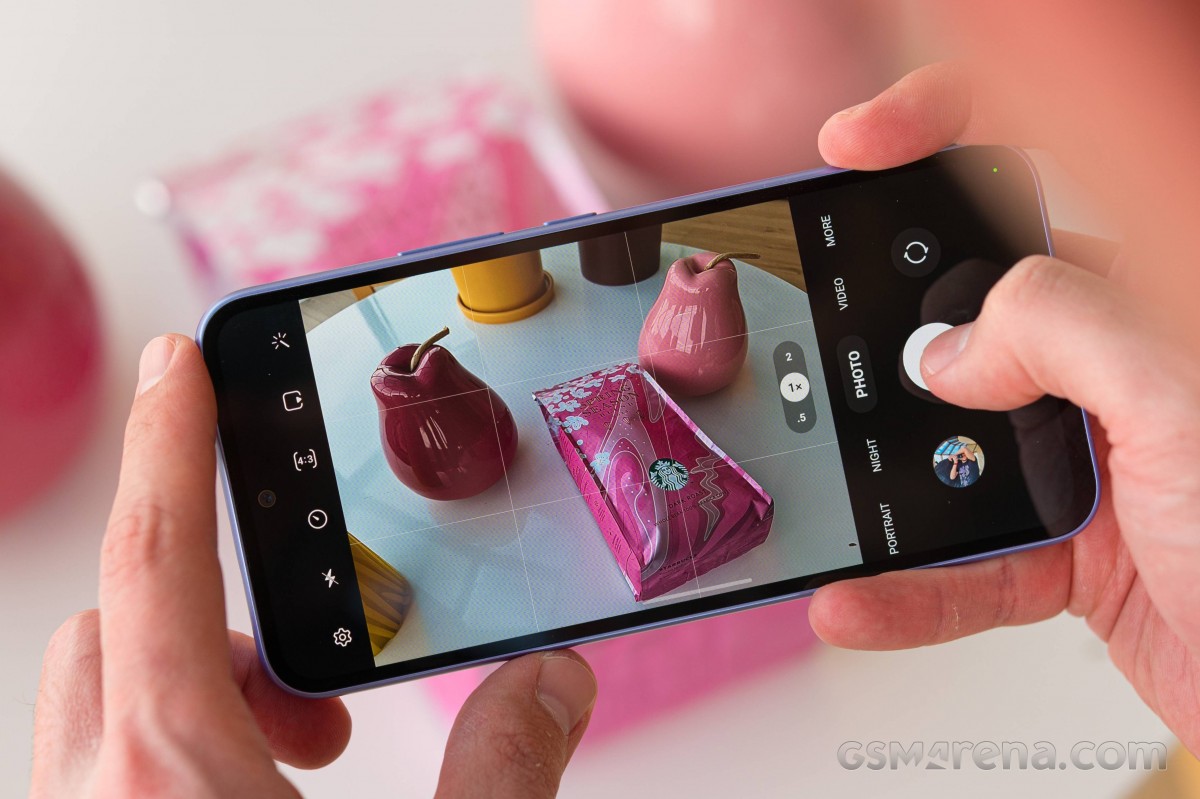 The main camera takes good photos during the day with excellent detail, high contrast, wide dynamic range and accurate white balance. Of course, the colors are Samsung, but fortunately not so much that they look like cartoons. And the same theme of containment continues with sharpening – yes, there is, but not much, at least in our opinion. The images have a Samsung look that a lot of people seem to like, so it's all good for now.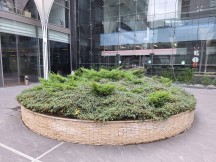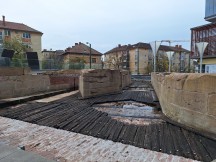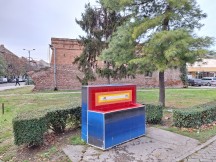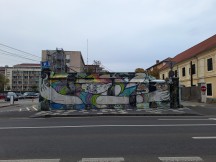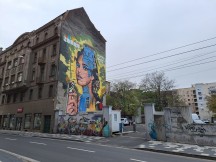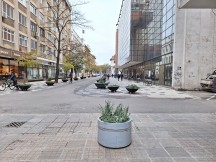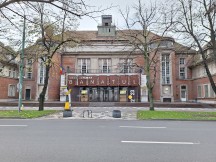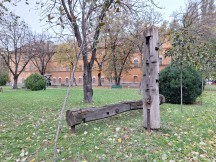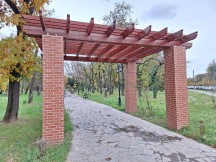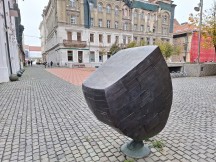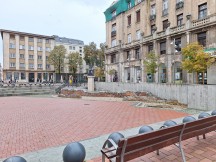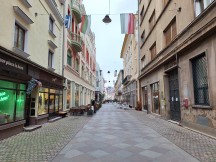 Daily samples from the main camera
Moving on to ultra-wide, color matching isn't great with the original sensor, but it's better than what most of the A54's competitors can do. Overall image quality is definitely better than what you'd get from that ubiquitous 8MP ultra-wide, but still a step down from what the main camera produces. If you compare these shots to the 1x shots, and especially to the 2x shots, there's an overall softness – which we'll get to later. They are also always darker or lower than 1x or 2x images.
Although there is no dedicated zoom camera, there is a 2x option in the viewfinder and of course we tried it. This gives you a center crop of the full-resolution 50MP images captured by the main camera. So the quality is a step down from the 12.5MP stock photos you get at 1x auto, but it's still quite usable, although there are sometimes slight color differences that are a bit odd since we're talking about the same sensor. Also, many times 2x images will be sharper than 1x, to the point where some of you might even call them too sharp.
Interestingly, the Galaxy A54, like most phones these days, has no manual setting for automatic night mode. There's an automatic night mode, it's on by default and you can't turn it off permanently – just when the crescent icon appears in the viewfinder. It's interesting that the Auto Night mode appears much less often than on many other devices – the ambient light threshold seems to be set lower here.
The auto mode photos you can see here were all as 'auto' as possible – we didn't disable auto night mode when the crescent icon appeared. The resulting photos are good, with wide dynamic range and excellent detail levels. White balance is usually on point but sometimes misses, otherwise these are very serviceable, while admittedly nowhere near the quality that the top devices are producing these days.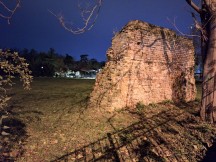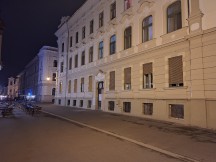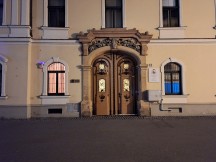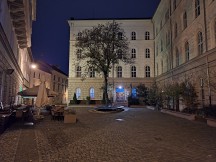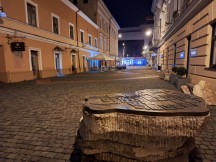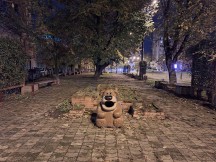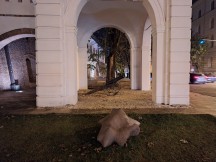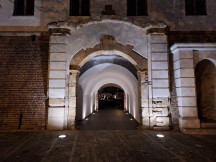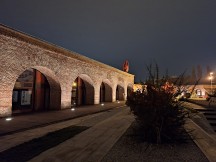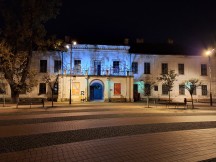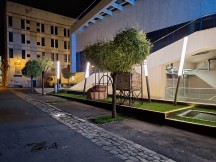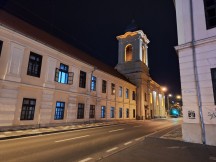 Night samples from the main camera
In manual night mode, the differences are usually minor, especially if you compare automatic shooting with automatic night mode engaged with the same shot in manual night mode. In such a scenario, you will most likely struggle to see any changes. And yet, there are still some – usually the highlights are better. Also, the resolution seems to be increased quite a bit. When automatic night mode was not engaged, the differences were a bit more, but still not night and day (pardon the pun).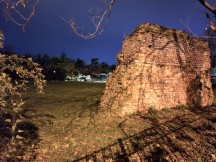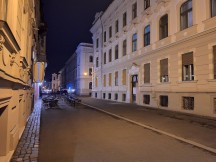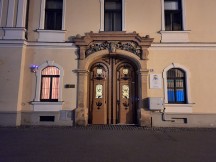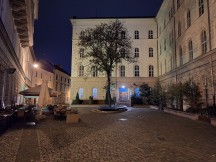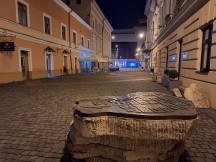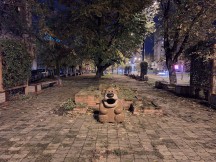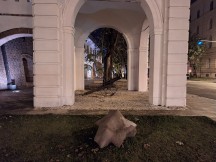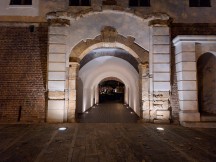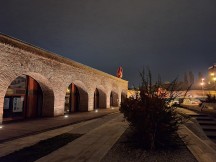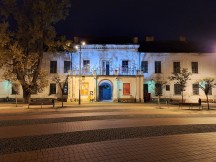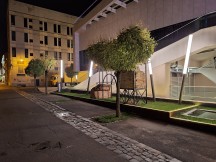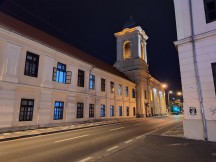 Examples of night mode from the main camera
We usually like to suggest which mode is best for night photography for most people, but in this case it's hard. In the end, the auto mode seems to be good enough for most settings, we just wish that the auto night mode would activate at a higher ambient light threshold than it currently does. As it is, when it's not, there are still scenes where the manual night mode improves things, even if only slightly.
Faraway fights at night. Less than most 8MP ultra-wides in the mid-range space, but still not comparable for a main camera. Colors are washed out, dynamic range is reduced, and detail levels are anything but great. There is also no automatic night mode processing for this.
So using manual night mode is almost a must in low-light conditions, even if it costs a few seconds shot-by-shot. Night mode brightens up shadows and the overall look, but the quality still isn't amazing. If you have to, you can use some of these.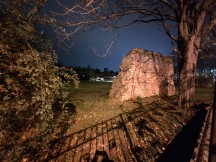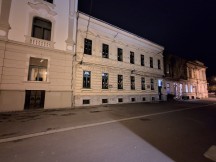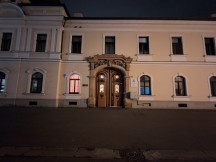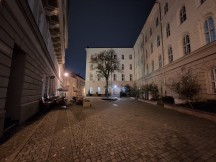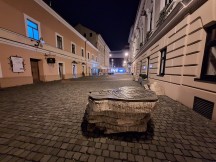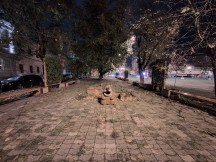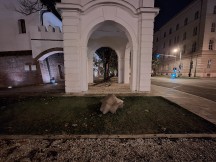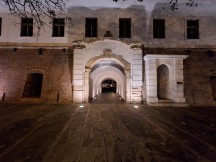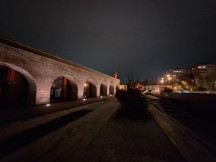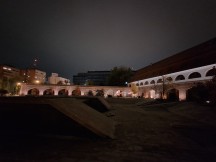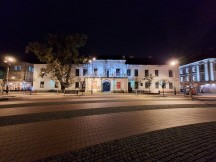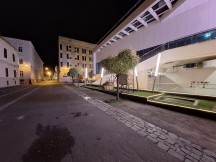 Examples of night mode from ultrawide
2x night shots are very good, with decent detail levels. They're a little worse overall and definitely a little sharper than what you get on the 1x, but still mostly usable.
Night mode makes things even sharper, which you might prefer over Auto Night mode, which otherwise improves photos somewhat but not by much. It also sometimes leans towards watercolor painting territory depending on the scene and the exact level of ambient light.
As usual, Samsung selfies come in two versions. You can take 12MP photos from the wider mode, or 8MP if you choose crop mode for a closer look. Wider shots are excellent, with good detail levels, accurate colors and very good dynamic range. Interestingly, though, colors are a bit less than we'd expect from a Samsung – the trademark 'pop' you get with the rear cameras isn't quite as intense.
The crop option always results in slightly lower quality images, so keep that in mind. Portrait mode selfies look good, but they're really nothing to write home about. From a distance, subject isolation looks decent enough, but when you look a little closer, you'll see that it's constantly missing stray hairs and the like. Also, the whole look of these is too artificial, for lack of a better description – that bokeh isn't very natural, is it?
At night, you'll need plenty of ambient light around to take some usable selfies, and of course use the screen flash function. If so, 9 times out of 10 you will have a usable photo. The lower the ambient light, the more the sensor will struggle, so keep that in mind.
Overall, the A54 has a very capable main camera that produces excellent results during the day and good results at night. Ultra-wide is a touch above the overused 8MP sensors we can still find in some competitors even at this price point. It manages good images during the day, but struggles at night, as do most ultra-wide images, except on really high-end phones. 2x zoom photos are surprisingly good during the day and generally usable at night, while selfies are pretty good during the day and  decent in low light if not too low.
Summary
For the price, the Galaxy A54 has a great display and great cameras. Battery life   is, in our book, fantastic at any price . And the same goes for software support: monthly updates are delivered every month as they should be, and major Android updates are released very quickly as soon as Samsung gets their hands on them, which is usually more than two months after release. The new Google won't last.
These are the high points. Given that this is a mid-ranger, there are a lot of things that, understandably, are just average: we're talking about handling for those who don't have big hands (and if you have small hands, you probably want Stay away), fingerprint sensor, speakers and vibration motor.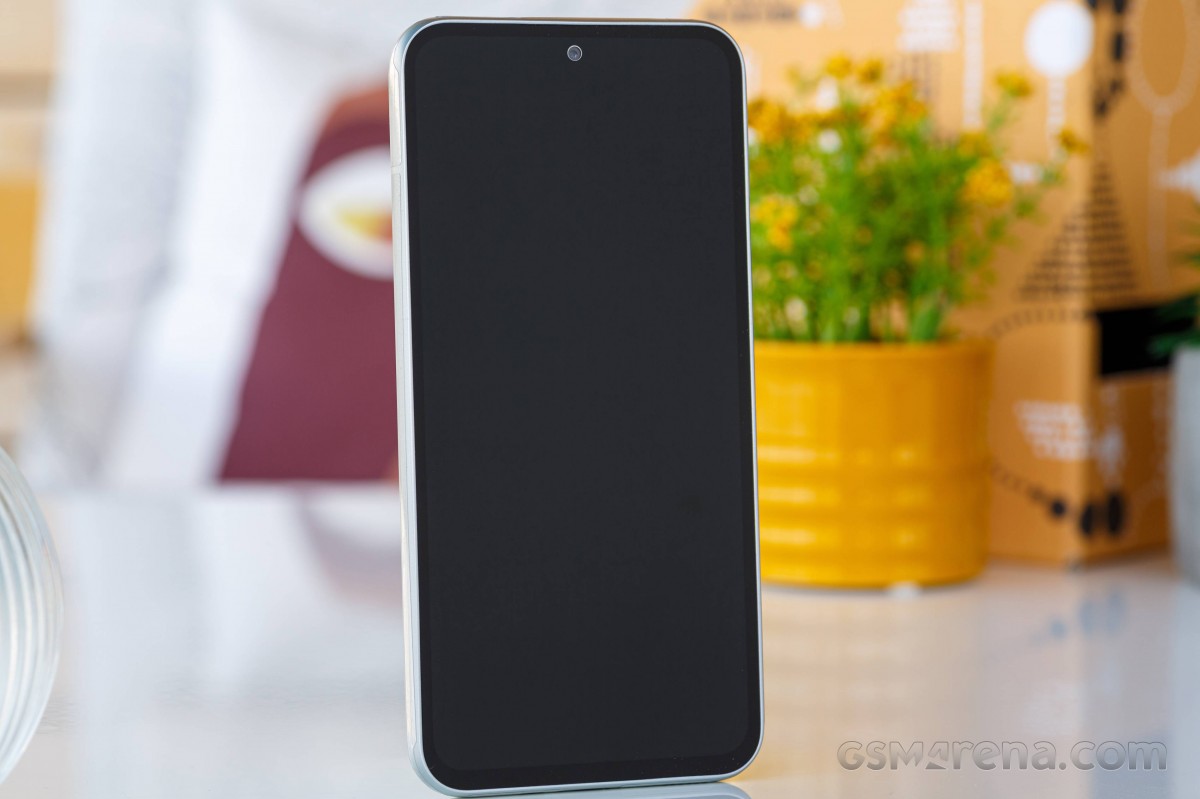 A UI itself is a known value at this point, which can be positive or negative depending on your personal perspective. On the one hand, it is incredibly easy to start using this phone when it comes from another Samsung. On the other hand, every new version of One UI is incremental and it hasn't been a big change for a while.
There's nothing wrong with that, though — unless you count the weird behavior when doing the go home gesture, which almost always results in a bit of scrolling around within the app you're in before you're actually taken to your home screen. will be But that might be what bothers us more than you.
The skin-specific features that are already well known are still there: you get two app stores and two of the many built-in apps, one from Google, one from Samsung. The Korean company still wants to play ecosystem, and if you're into that, then you're in for a treat. We see a lot of pointless repetition, but for what it's worth, it's pretty easy to just ignore Samsung's apps and rely solely on Google's.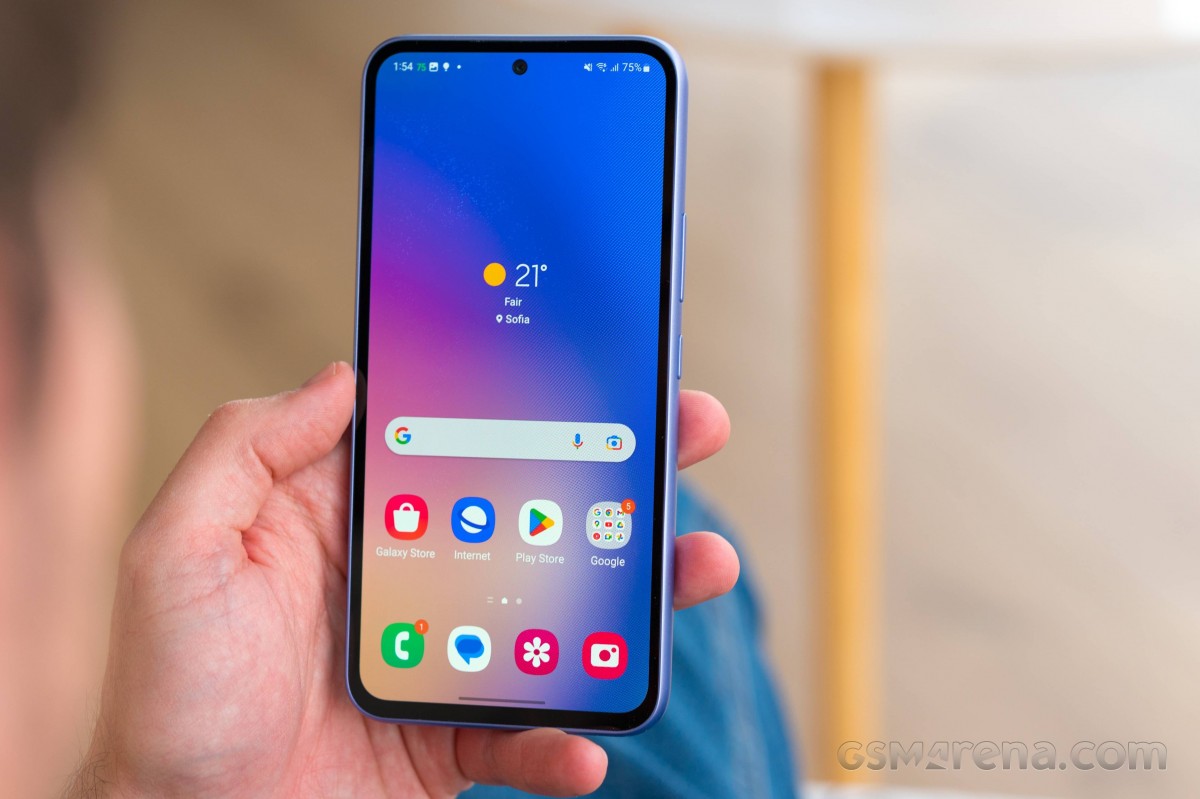 The main weakness of A54 is related to performance and especially its softness. It's fairly lacking on the front end, which we can probably get past because it's not trying to be a flagship, but the amount of minor stutters and lags during our use of it doesn't make for a smooth phone by any means. In fact, it's the least flawed phone we've reviewed long-term in two years. And yes, the A54 is cheaper than any top-shelf device, but so is the Poco F5, which runs circles around it in terms of smoothness.
As you might expect, the Poco has its downsides: the vibration motor and the cameras are worse, if not by much, but the difference is stark. Additionally, there are bugs that go unfixed for months, and the software updates that do come are fewer and farther between. The Poco has other positives too, like a much better fingerprint sensor, and the fact that it looks more expensive from the front – unfortunately, the A54 only gives off that illusion from the back. When you flip it over, it actually looks cheaper than it's worth due to the overly thick bezels.
We're doing these comparisons because the two phones are currently very close in price, but we can't say which one is the best per se — if you want better software support, display, battery life, and camera. And it can live with a mediocre fingerprint sensor, a shaky engine and a general lack of smoothness, the Galaxy A54 should be your pick. Conversely, if performance and especially smoothness are your top priority, and you don't mind small compromises in camera, battery life, and software support, you should probably go for the Poco F5.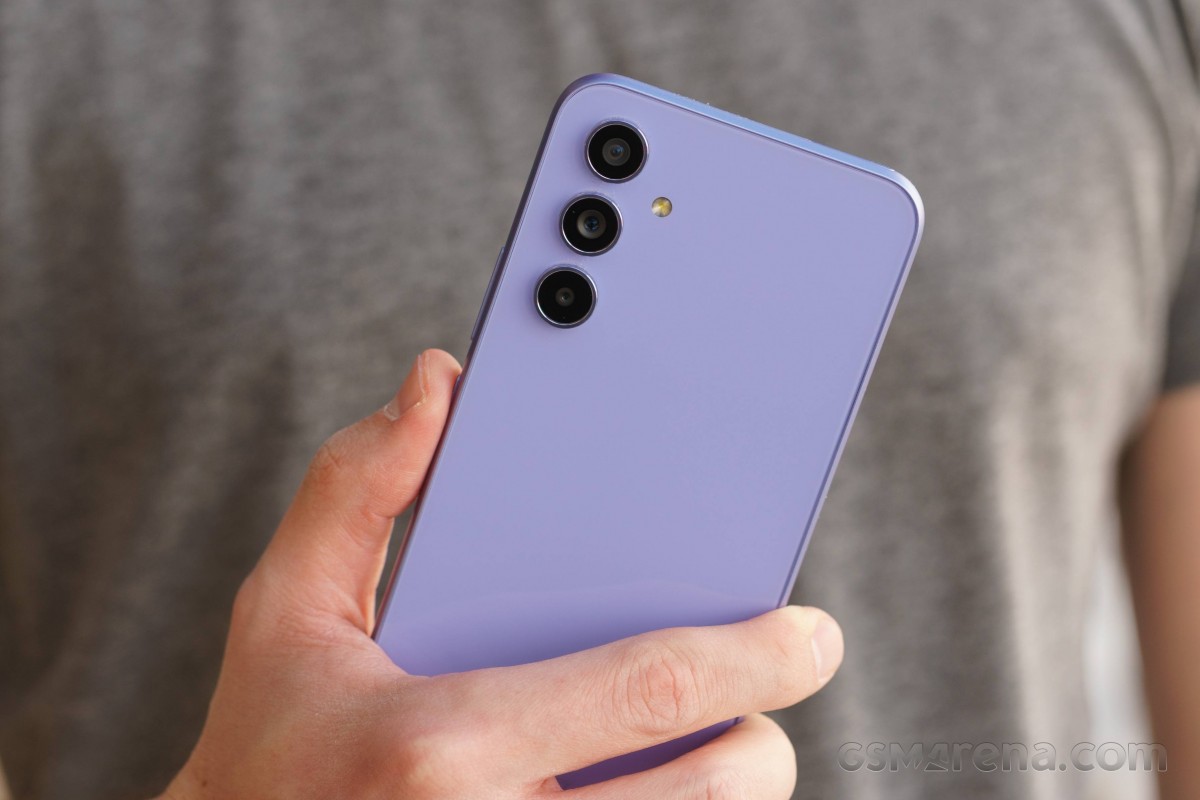 The Galaxy A54 isn't a bad phone  , it's a good phone that could have been much better if Samsung had paid more attention to competing with similarly priced devices from other brands. The company seems to feel it can do no wrong with the A5x line, that people will buy these no matter what, so since that's the case why not maximize profits here and there, right?
This seems to be quite the theme for Samsung of late, as it's safe to say that it's headed down a similar path with its foldables. And it works until there is no clear, better alternative available internationally. But sometimes such alternatives pop up, like this year's OnePlus Open, and then it quickly becomes clear how much Samsung is resting on its laurels.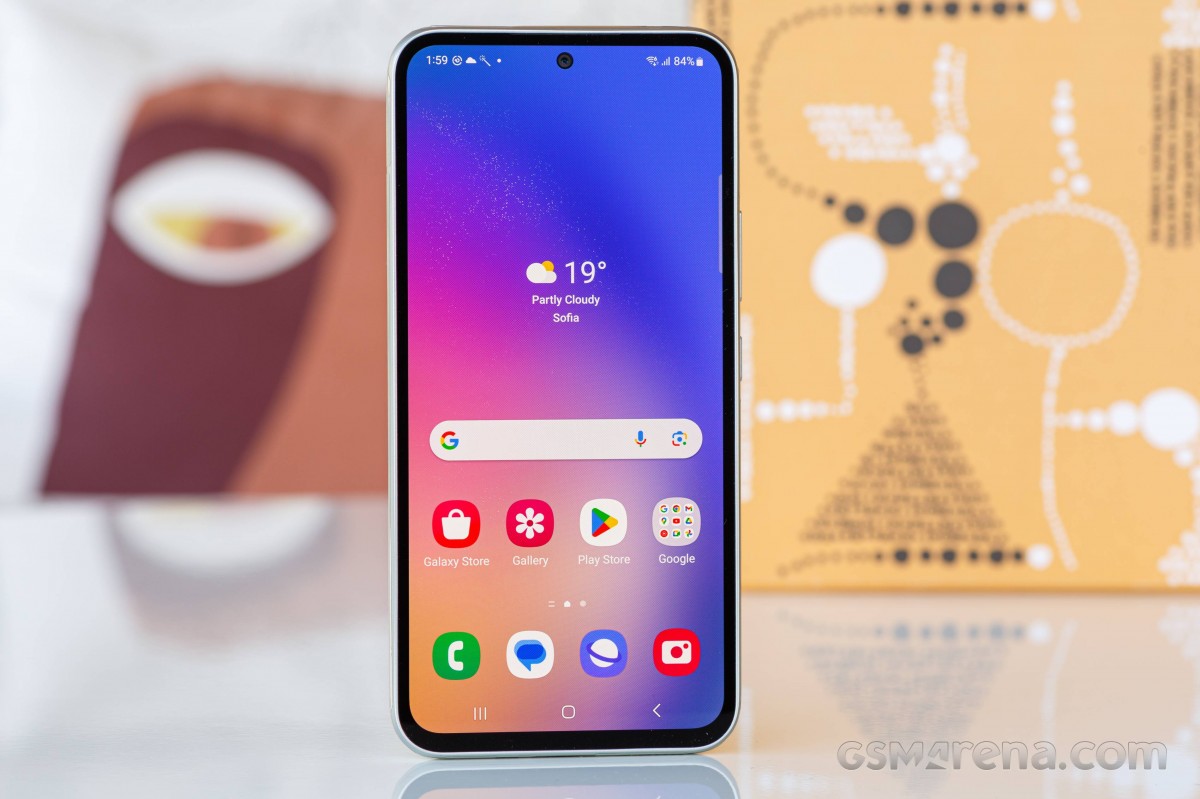 It's the same story at this particular point in the midrange. The A5x line seems like your best bet for most people, and it might be, but only if you look at Samsung's lineup. The moment you compare it to phones from other brands, you get to the point where you really need to consider software support and a  much better display and battery life to justify such a purchase. Of course, you can also just play the posing game, and want something that remotely resembles a high-end Samsung, and then all is well, the A54 delivers.
But it doesn't deliver in all  the areas it should, and that's a huge missed opportunity in our book. Unlike many people, we have nothing against Exynos chipsets, but this chipset is simply not suitable for a device at this price, in 2023. And it's no big surprise, it's been obvious since the A54 was announced that this would be the case, but Samsung kept going.
Let's put it this way: with a better chipset (Snapdragon 7+ Gen 2, for example) and a better fingerprint sensor (even if it's side-mounted), this could easily be a "just go and buy it, thought Don't "think about it twice" advice at this price. As it is, we definitely suggest  that you  give it a lot of thought and carefully weigh the pros and cons that we've laid out for you in this long-term review based on your specific needs and preferences.
Source: GSMARENA.COM
Introducing the advanced features of Google Maps
Google Maps guides you from A-to-B, but has more advanced features. Here are the advanced features of Google Maps.
Introducing the advanced features of Google Maps
Google Maps provides live navigation and can take you almost anywhere in the world. 
However, Google Maps is capable of much more, and with these advanced features, you have one of the most powerful travel tools for planning and managing trips.
You can use Google Maps to check the local weather. According to Android Police, the feature is currently available for the iOS app and the web app, and it looks like Google is currently rolling it out (or at least testing it) for the Android app.
If you're using iOS, open the Google Maps app and zoom in on a city or region. You should see a small tile below the search bar at the top of the screen that shows the current temperature and a weather icon.
As you move through the Google Maps app, the tile will update to show the local weather. If the tile doesn't show up for you, tap any location in the current map view, then deselect it. This should return to the default view, including the weather tile.
If you're using the Google Maps web app, you'll need to click on a location to access weather information. This time, you will find weather details in the information panel next to the location name.
You can also click on the weather icon to get a more detailed forecast for the location you're viewing.
Once you've chosen a place to visit, you'll probably want to explore what to see and do while you're there. Google Maps can help you navigate the hustle and bustle of new places by showing you how busy areas are and even the busiest times to visit attractions, restaurants, and other places.
As you zoom in on a city, the busiest areas are highlighted in yellow. So, if you prefer to stay outside the busiest parts of the city, you can use this information to help you choose the best place to stay. Likewise, if you want to avoid the crowds, you might want to visit the highlights early in the morning.
If you click on a landmark, cafe, or anywhere else you want to visit, Google Maps will show the busiest times, provided the location has enough traffic to provide this data. It shows you the busiest times to visit each day of the week and gives you live data, which shows whether places are less or more crowded than usual.
3. Walking routes of the live show
With Live View in Google Maps, you can use the platform's Street View overlay to guide you on walking routes. To use this feature, your device must be compatible with ARKit (iOS) or ARCore (Android) tools for augmented reality experiences. You must also be in an area with a street view.
To access Live View when you're away from home, follow these steps:
Open Google Maps and select a location to navigate to.
Drag down the location screen to  reveal the Live View icon.
Tap Live View.
Point your phone camera at buildings and signs to pinpoint your location.
Follow the red markers to reach your destination.
Hopefully it goes without saying, but Live View is only designed for navigation on foot, not in moving vehicles. You can also use this feature to navigate and make sure you're on the right track. This can save your battery (and data!) if you have a long walk ahead of you.
4. Find the most optimal route before departure
If you rent a car on your travels, using fuel-efficient routes can help you cut costs and reduce your environmental impact. Google Maps will automatically recommend the most economical route if you've enabled the option to prefer fuel-efficient routes in the settings.
 Open Google Maps.
Tap your account icon  to the right of the search bar.
Select Settings.
Go to Navigation  settings and tap on it.
Scroll down to Route options.
Activate Prefer fuel-efficient routes.
Now, to get the most fuel-efficient route for a road trip, use the Directions feature in Google Maps as usual:
Enter your destination in the search bar.
 Click on Directions.
Enter your starting point (or choose your location).
Make sure the drive icon is selected below the search bars.
5. Save a route for later
You can save routes in Google Maps for later, allowing you to plan trips in advance without repeating the same steps when it's time to hit the road. To save a route, all you have to do is tap the Pin button  on the selected route tab. Once this is done, the button's label will change to Pinned, indicating that the track has been saved for later.
You can also save routes for other modes of transportation: walking, public transit, etc. This means you can plan those routes to attractions, interesting restaurants, and anywhere else before your trip and quickly access them when you need them.
 Open the Google Maps application.
 Tap on Go in the menu at the bottom of the screen .
Select the pinned track you want to access from the list.
When you select a route, you will receive updated travel information for estimated arrival times and any disruptions that may cause delays.
6. Download Maps For Overseas Travel
Google Maps is a great travel tool, but it doesn't help much if you lose internet access on the road. Fortunately, you save maps for offline use before you travel, so you can still navigate without internet access.
 Open the Google Maps application.
Search for a location (eg, San Francisco).
Pull up the location tab in full screen mode.
Tap the three dots icon at the top right of the screen.
Select Download offline map.
You can still access driving directions using offline maps as long as the entire route is available on the saved map. Keep in mind that when using maps offline, you won't get travel information or features such as alternate routes, most economical routes, etc.
7. Share your location to make solo travel safer
If you're traveling alone, sharing your location with someone you trust is a safety travel essential. Whether you're traveling solo abroad or hiking, sharing your location can help authorities intervene more quickly if there's a problem.
 Open the Google Maps application.
Tap your account icon  to the right of the search bar.
 Select Share Location.
 Tap on Location sharing.
Set the sharing time or  select Until you turn this off.
Select the contact(s) you want to share your location with.
 Tap Submit.
Traveling solo is a different experience and overcoming challenges like not knowing the language is all part of the fun. It's possible that nothing serious will happen, but in the unlikely event that you need emergency help, location sharing can save your life.
Whether you're planning your next trip or need help finding the best restaurants in a new city, Google Maps has you covered. With live information, you can choose the fastest or least expensive routes for road trips and see how crowded places are to avoid the crowds.
You also have the latest weather forecasts to help you choose the best days to travel and avoid getting caught in the rain. Saving routes for the future and downloading offline maps makes life easier after you're on the move, and sharing your location can protect you and anyone you're traveling with. With Google Maps, there's no excuse for getting lost or running out of ideas for things to do on your trip.
The best student Chromebooks 2023, buying guide
The best student Chromebooks are affordable alternatives to the best Windows laptops and the best MacBooks for both students and those working in education.
The best student Chromebooks 2023, buying guide
In addition to affordability, strong battery life is another feature offered by most Chromebooks. This is useful for students, especially since a single charge can usually get you through a full day of school or college classes. Some even have touchscreens or the ability to fold the screen into a tablet, giving them more versatility.
And as mentioned above, Chromebooks are affordable. While even the most entry-level MacBooks sell for around $900, a mid-range Chromebook can cost up to $300. Plus, for high-income college students or even teachers, there are premium options in the $500-$700 range.
Below, we've listed some of the best student Chromebooks you can buy.
Read more: The best gaming PCs 2023, buying guide
The best student Chromebooks you can buy today

1. Samsung Chromebook 4
The best affordable Chromebook for students
Technical Specifications
Screen: 
11.6 inches, 1366 x 768 pixels
Dimensions: 
11.3 x 8 x 0.7 inches
Reasons to buy
Long battery life
Thinner and lighter than competitors
good performance
Reasons to avoid buying
Dim the screen without touch
Average voice
The best student Chromebook for those on a budget, the Samsung Chromebook 4 really impresses with its battery life. This laptop surfed the web for more than 10 and a half hours with a single charge. The chromebook 4's aluminum finish makes it look like a much more expensive computer — though it has a plastic base. Performance is another highlight of this Chromebook, allowing for much faster multitasking than expected at this price point.
The Chromebook 4 is also lighter and slimmer than competing 11.6-inch Chromebooks, though we wish the display supported touch input. Its display offers acceptable performance, but don't expect to see a lot of color or detail when watching movies or browsing YouTube. Speakers are fine, but you might want to bring your own headphones.
For students on a budget, this Chromebook offers a lot for a relatively small price. It's ideal for learning at home, while also offering some features you can use after you're done.
Price on Amazon: $104.88
The best affordable 2-in-1 Chromebook
Technical Specifications
CPU: 
2.0 GHz octa-core MediaTek Helio P60T
Storage: 
64GB eMMC, 128GB eMMC
Screen: 
10.1 inches, 1920 x 1200 pixels
Dimensions: 
9.64 x 6.66 x 0.71 inches (stand)
Reasons to buy
Long battery life
Great screen for the price
Affordable, plus keyboard included
Reasons to avoid buying
The keyboard is best for small hands
The hinge could be stronger
The second best student Chromebook option is the Lenovo Chromebook Duet. Sometimes, it's surprising how much you can get for $300 or less. The Lenovo Chromebook Duet, for example, is a 2-in-1 Chromebook that offers something that Microsoft's Surfaces and Apple's iPads can't: a built-in keyboard. Not only do you get this feature, but the Chromebook Duet's tablet screen itself is excellent, with an amazing amount of color output and a crisp 1920 x 1200 pixel resolution. It's great that it won the best budget laptop award at the 2021 Tom's Guide Awards.
The Chromebook Duet's keyboard is definitely a bit stiff, but at this price, any keyboard is amazing. Making things even better, the Chromebook Duet offers ChromeOS tablet optimizations that are long overdue to take advantage of all that screen real estate. On top of all this? In our battery test , it lasted 12 hours and 47 minutes, nearly 13 hours.
3. Samsung Galaxy Chromebook 2
The third option of the best student Chromebooks is the Samsung Galaxy Chromebook 2. Removing the 4K display from the Samsung Galaxy Chromebook was probably the best thing Samsung could have done to popularize this Chromebook. It's now even more affordable for students, but still has a great QLED display and longer battery life – 7 hours and 50 minutes compared to the previous generation's 5 hours and 55 minutes. It'll also sound great, plus its Core i3 configuration will provide plenty of speed for Chrome OS.
We weren't happy with the vertical travel on its keyboard, which is a bit shallow. This creates a slight learning curve that you will adapt to over time. Plus, the Galaxy Chromebook 2 is a great value at $399 (Celeron) or $549 (Core i3). We love it so much that we awarded it Best Chromebook in the 2021 Tom's Guide Awards .
Price on Amazon: $328.09
The fourth option is the Acer Chromebook Spin 713, the best student Chromebook. When shopping for a great student Chromebook, you should look for a device that is affordable, offers good performance, stylish design, and durability. The Acer Chromebook Spin 713 nails this combination.
That's partly due to its Intel Core i5-10210U CPU, which provides plenty of speed for Chrome OS (anything more than that is overkill) and 8GB of RAM to handle all the Chrome tabs you can open. use it
In addition, its 2256 x 1504 pixel display provides bright and excellent image output. Additionally, it lasted 11 hours and 54 minutes in our web-based battery test. The only major issue you can have with the Spin 713 is that its size makes it less portable than other options. Admittedly, this is a problem for all 13-inch laptops.
The Acer Chromebook Spin 311's excellent battery life and excellent keyboard help it stand out in a field of best student Chromebooks full of small, affordable options. It's good enough to get a recommendation for the best budget laptop in the 2021 Tom's Guide Awards . It's currently only $199 on Amazon .
With a travel of 1.6mm, the Spin 311's keys are surprisingly comfortable for long periods of typing, and the battery lasted 12 hours in our tests on hold mode, making it a great choice for students who want to type while working. he does. Move.
Just don't expect a great screen, as the Acer Chromebook Spin 311's 11.6-inch 768×1366 screen tends to make videos look clean and dim.
Why choose a Chromebook?
As we said above, Chromebooks make ideal laptops for students because of their versatility, ease of use, and affordability. That last point is especially important for those on a budget, as you can often find Chromebooks for less than $100.
The vast majority of Chromebooks have a similar set of features. All use Google's Chrome OS, which is lighter and easier to use than Windows or macOS. Chromebooks aren't as powerful as the competition, but they make up for it with their versatility. Thanks to Google Play Store integration, they can run a variety of apps and are ideal for those who are always online.
Almost everything you do on a Chromebook, outside of using non-native apps, happens in a Chrome window. So although they are not the right machines for heavy software users, they are very useful for research, writing and presentations.
Source: TOMSGUIDE.COM